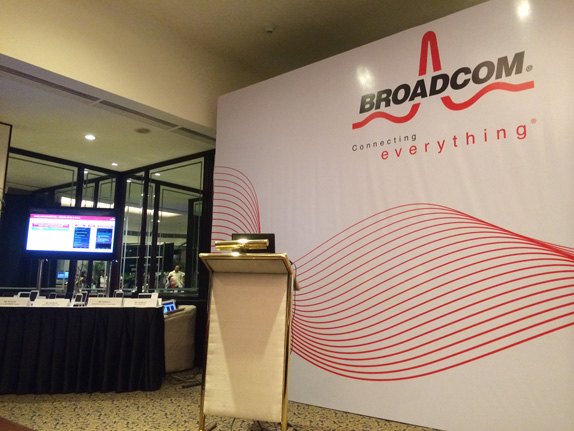 Broadcom at ongoing Consumer Electronics Show (CES) 2016 in Las Vegas has announced a new 64-Bit quad-core processor for high-end routers.
The new Broadcom BCM4908 enables OEMs and service providers to deliver the extra CPU power needed for smart home and Internet of Things (IoT) applications, says company.
The manufacturer also claims that the BCM4908 includes the industry's first 1.8GHz 64-Bit quad-core ARM CPU, and uses Broadcom's Runner network packet processor to deliver more than 5 Gbps of system data throughput with ease. It can also support the increased speeds of Google Fiber and Comcast 2 Gbps via an interface for a 2.5 Gigabit Ethernet PHY. It pairs with Broadcom's BCM4366 wave 2.5G Wi-Fi MU-MIMO to deliver more than 3.4 Gbps of simultaneous Wi-Fi throughput.
"With this new SoC, Broadcom is driving home network connectivity to the next level," said Manny Patel, Broadcom Director of Marketing, Wireless Connectivity. "By increasing the CPU performance and adding advanced features, we're enabling OEMs to build more powerful home routers that address the increased bandwidth requirements needed to support the continued consumption of high-bandwidth content, growing demand for UltraHD as well as the growing emergence of more IoT and smart home applications."
The company didn't announce any time frame for the availability of BCM4908. It only said that the chipset is currently sampling.
Broadcom BCM4908 Key Features
Zero CPU Wi-Fi offload frees up CPU resources for other tasks
BroadStream iQoS acceleration
Dedicated security processor to enable hardware VPN acceleration
2.5Gb Base-X Ethernet WAN/LAN port for supporting fast connectivity to multi-gigabit modem or a Network Attached Storage (NAS) device
Feature-rich connectivity with integrated SATA III, two USB 3.0 ports and three PCIe Gen 2 ports reduces external RBOM cost
Utilizes low power 28nm technology and advanced power management, offering power reductions of more than 50 percent as compared to previous solutions
Supports Broadcom's tri-band (AC5300) 5G WiFi XStream 802.11ac MU-MIMO:

Three BCM4366 4×4 radios, each with an integrated CPU for host offload processing
Providing a total of seven CPU cores ("Septacore") with more than 9.6 GHz of CPU horse power

Powerful hardware acceleration for routing and USB storage