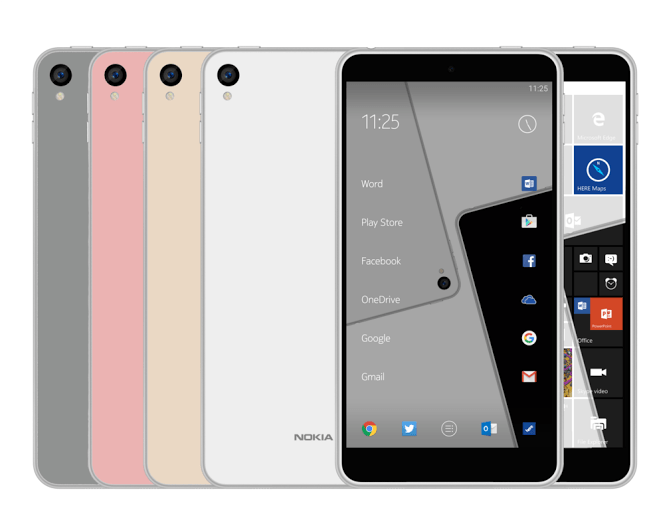 Nokia is coming back to the smartphone game in 2016 and the rumors have indicated that they plan to do so with the C1 smartphone. A new render that has been leaked, reveals that the smartphone might come in both Android as well as Windows 10 variants.
The render seems to show an Android running Nokia C1 in the foreground with the Nokia Z launcher UI on top of it. Behind the Android powered C1, you also have the Windows 10 powered C1.The device is expected to have a 5/5.5″ full HD display along with both Android and Windows 10 options with the latter being available only in select markets.
The smartphone is expected to have a 32GB model with 2GB of RAM and a 64GB model with 3GB of RAM. Similarly, the 32Gb model will have an 8 Megapixel camera while the 64GB model gets an improved 13 Megapixel camera. The front camera on both the variants will be a 5 Megapixel snapper. The device is expected to come in Grey, WHite, Gold and Pink colours.
Nokia aren't allowed to make a comeback until their agreement with Microsoft expires but the prospect of having the brand back itself may excite most loyalists of the brand. It is reported that Foxconn will manufacture the first smartphone from Nokia.
Some sources also state that Nokia have apparently cancelled the C1 smartphone which is what we see in these pictures and instead moved onto a more advanced prototype. Regardless, there still is a long time before we see the launch of the phone so a lot can happen between now and then.