Yahoo has updated its image search with integration of Flickr photos. So now when you are signed into your Yahoo account, you can find your Flickr photos in search.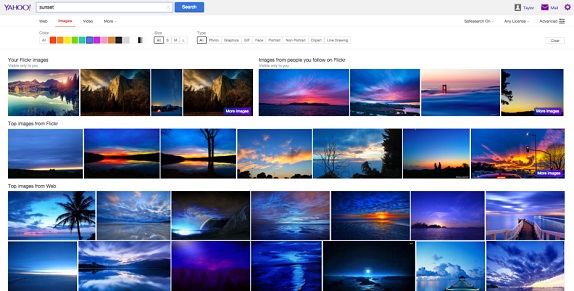 The image search will now show a selection of your own photos along with images from people you follow and top public photos on Flickr. Your own photos will be seen in the top row followed by the ones from others in a second row. With this update, Yahoo is bringing Flickr and image search on same page as the same search functionality can be found on Flickr as well. Yahoo will show images from the web at the end after revealing images from Flickr.
In addition, while searching for images, users will be able to utilize advanced filters like color and size that now apply to both images from the Web and Flickr. You can also filter the image search by selecting the one from the "License" drop-down. Finally, "more images" button is now present on each category of Flickr image results and links directly to Flickr.com for more photos. The new Yahoo image search, featuring Flickr results, is available to users in the U.S. on desktop today.