Google has partnered Twitter to display tweets in search result on mobile and desktop. The new feature will become available on the English version of Google.com, the Android and iOS versions of Google's search app, and on mobile browsers.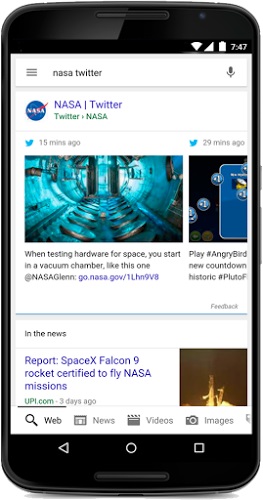 Twitter's real-time content integration into Google's search results is currently only available to U.S. users searching in English. The feature will roll out to more countries "in the coming months." After tapping on a tweet from a Google search result, it will let you view original tweet and further discover additional content.
"By deeply integrating Twitter's real-time content into Google search, we hope you find it easier than ever to explore your interests across both Twitter and Google.".

posted Twitter in a company blog.
Now when you search for a person, hashtag, or popular topic of discussion, you'll find related tweets on your results page. Like all other results, the position of the Twitter results on the page will be determined by their relevance to your search terms. This is not the first go-round between Google and Twitter. The two companies formed similar agreements in 2009, but let the deal lapse in 2011 as Google was ramping up its efforts with Google+.