Google has expanded free personal storage on Play Music. User can now store upto 50,000 songs on Play Music which is up from 20,000 songs.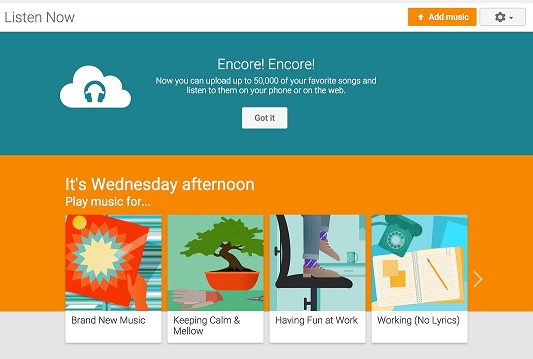 "Today we are expanding the music storage limit on Google Play. Now you can store 50,000 songs for free and stream or download them them to your phone, tablet, computer or Chromecast."

posted Andrew Stromme, Google Play Music Product Manager in a blog.
The increased storage space will be immediately visible next time you log into Play Store from the web. It must be noted that the storage is free and users do not need to pay any extra sum. In order to add music users will need to add via Chrome app, which provides seamless uploading. You can choose to simply upload your entire iTunes library or select other music folders. Music can be streamed or downloaded from your Android, iPhone or iPad for easy offline listening.
In comparison, Apple's iTunes Match costs $25 per year and allows users to store up to 25,000 songs in iCloud. Earlier this month, Play Music received full-page slideout navigation drawer and other UI tweaks. Prior to this, it was updated in October with Material Design features and Songza integration.