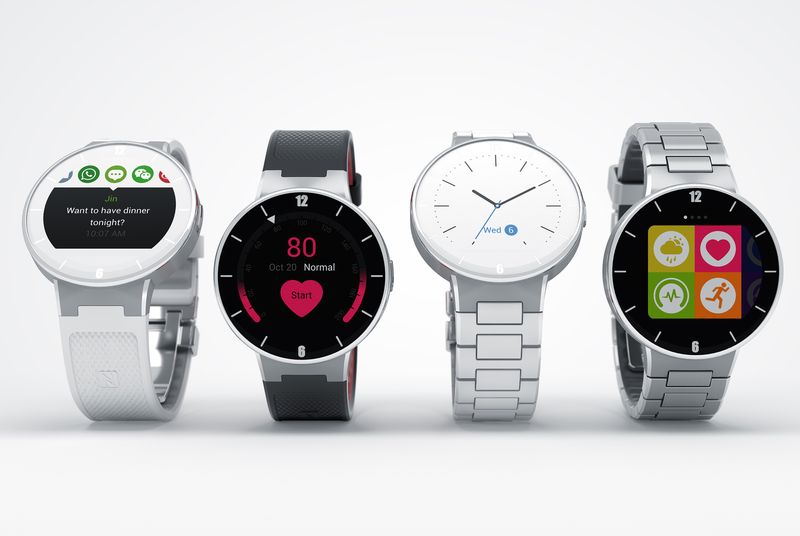 Alcatel OneTouch have unveiled their first smartwatch at CES 2015 this week – named the Alcatel Watch, it is a cost-effective entrant into the wearables arena and unlike many current smartwatches, it supports both the Android and iOS platforms.
The Alcatel OneTouch WATCH looks similar to the Motorola Moto 360 but unlike the Moto 360 and most other current smartwatches, it doesn't run on the Android Wear platform. Instead, it uses a companion app installed on your phone to connect from either iOS or Android and this app allows you to choose the notifications that appear on your watch, adjust your watch face and see health data collected by the watch.
Like many other smartwatches, the Alcatel OneTouch Watch comes with an integrated heart rate sensor alongside other sensors including accelerometer, gyrometer, altimeter and compass. The health data available is likely to include the number of steps taken, distance travelled, number of calories burnt and the time spent sleeping – it's unclear if the sleep information will also include information such as quality of sleep.
Another area where the Alcatel OneTouch Watch could excel is in its battery life – according to Alcatel OneTouch, it is capable of two days battery life on a single charge and could last up to five days (with the correct settings which basically means if you don't use the watch). Current Android Wear smartwatches offer one to two days battery life (most require charging every night) so it will be interesting to see if the Alcatel OneTouch Watch can live up to its claims. When it does eventually run low, it can be charged using any microUSB cable without the need for an adaptor.
The Alcatel OneTouch WATCH comes in four versions – two plastic in black/red and white and two metal versions; the former will launch in April in the US with global availability to be announced whilst the latter will be released later this year. The Alcatel OneTouch WATCH will cost $149.99 in the USA and when it's available in the UK, MobileFun will be selling the device for £150.