LINE mobile messaging platform has announced a LINE Sticker Design Competition exclusively for its users in India. Participants will have to send their entries between the contest period from 10th Dec 2014 – 21st Feb 2015.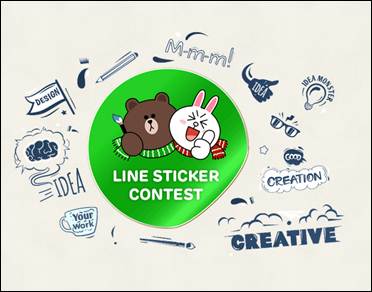 Eligible participants can enter this competition by submitting 8 types of LINE stickers by following the guidelines such as
Sticker designs that Indians users might love
Sticker designs that differ from existing LINE stickers.
Sticker designs that might be used frequently by Indian users.
Sticker designs that can be used in common situations.
You can get inspiration from various stickers available in LINE's Creator's Market
Participants will have to send their sticker entries by 14th January and the first round finalists will be announced on 28th January on Line website and Facebook account.The winner of the contest will receive ₹3 Lakhs, while the 9 following finalists will receive ₹1.5 Lakhs each and 10 following finalists will receive ₹0.5 Lakhs each. The total prize of this competition is a whooping ₹ 21,50,000.
20 finalists will be selected by LINE judges and stickers will be published in LINE Store. Grand Prix Winner and 19 Finalists will then be ranked upon the basis of number of stickers downloaded by LINE users for the next 10 days. They will use user votes, originality of the Character, artistic and Technical Skill and sense of fun, action, and engagements the criteria to award the winners.