Yahoo is rolling out app install ads that are now available through Yahoo Gemini. Advertisers will be able to manage their accounts to promote their apps across the Yahoo network.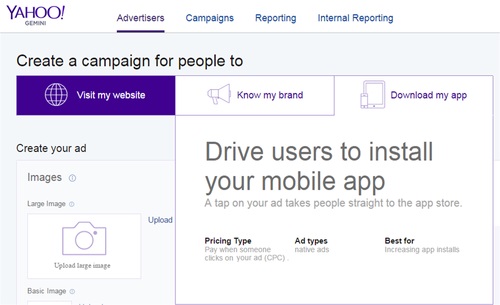 App marketers in the U.S. can now run app install ads on Yahoo mobile sites, Tumblr and Yahoo apps and on other sites using Yahoo Gemini. Yahoo had announced Gemini, its ownmobile and native  ad marketplace earlier this year. The company stated that marketers will be able to promote their apps on the aforementioned Yahoo networks that have around 550 million monthly mobile users base. The pricing model is pay-per-click, with advertisers paying on each ad click as opposed to a cost-per-action model in which advertisers only pay on each app download.
"With app install ads available through Yahoo Gemini, in addition to the Flurry mobile app analytics suite, Yahoo now supplies brands and developers with many of the tools they need to help make their apps successful, including targeted user acquisition and best-in-class insights and measurement."

posted Enrique Muñoz Torres, VP, Product Management on company blog.
According to eMarketer, Yahoo, which started reporting its mobile revenues for the first time in Q3 2014, is slated to represent 3.2% of the nearly $19 billion US mobile ad market in 2014.
via