Glympse, a popular time limited sharing app has introduced a new app dubbed as Glympse Express. Available exclusively for Android, the app allows users to share their location with any contact, app or service instantly.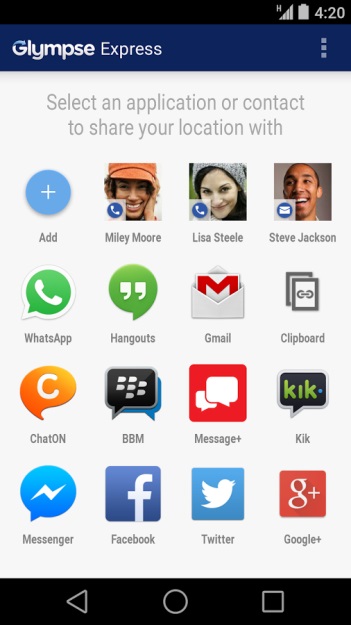 Users can control how long an application or a person has access to your location for with the Glympse Express app. It lets users choose which contacts can see their location. The app is basically a simplified version of the full fledged Glympse app.
"Our goal is to make real-time, temporary location sharing as simple as sending a text message or making a phone call. We are continually investing in new features and technologies to make location technology pervasive, and our latest app takes us one step closer to our goal. Never before has answering the question 'where are you?' been so easy."

said Darren Austen, vice president of product, Glympse.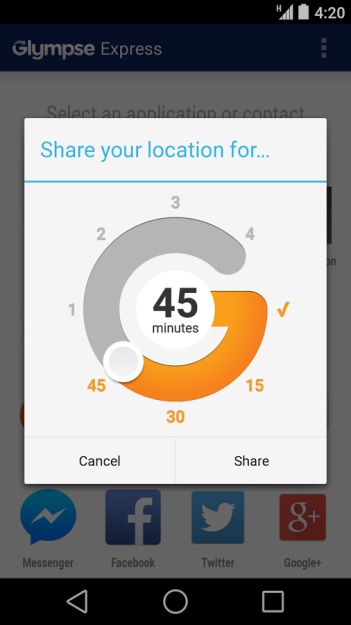 The app allows users to set up a pre-set list of contacts, apps or services as "Favorites." so next time you can share a location with them with a simple tap. They can even adjust the timer for the length they want their location visible and Glympse instantly shares a link to a real-time, dynamic Glympse map. When the timer on the Glympse expires, the user's location is no longer visible. Recipients can open the Glympse in any mobile or web browser to view a dynamic map of the sender's whereabouts.
You can download the Glympse Express app here
via:Android Police