Apple today made iOS 8 available for download for iPhone and iPad users. The latest operating system from Apple brings a slew of features and improvements. An array of apps has been updated to iOS 8 and popular note taking app Evernote is one of them.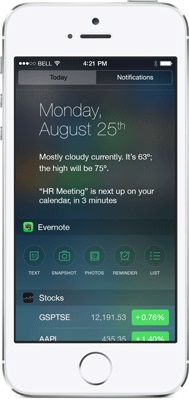 The Evernote app for iOS 8 now adds a bunch of new features and updates. First up, the version 7.5 of the app adds the web clipping ability that allows users to save photos, documents, and Web pages as notes. They can even start a fresh note from the Notification Center with iOS 8. Evernote can be added by tapping Edit at the bottom of the Today section in the Notification Center.
A couple of premium features are also added to Evernote for iOS8. Paying customers of Evernote can use Touch ID to unlock your passcode-protected account with your finger. They can rediscover useful content from your account in the Related Notes section. Finally, Evernote Business notebooks update in the background if you have push notifications enabled. The Evernote app for iPhone and iPad was last updated in January this year with customizable options and new features.
You can download the Evernote app from Apple App Store.
via:Evernote Blog