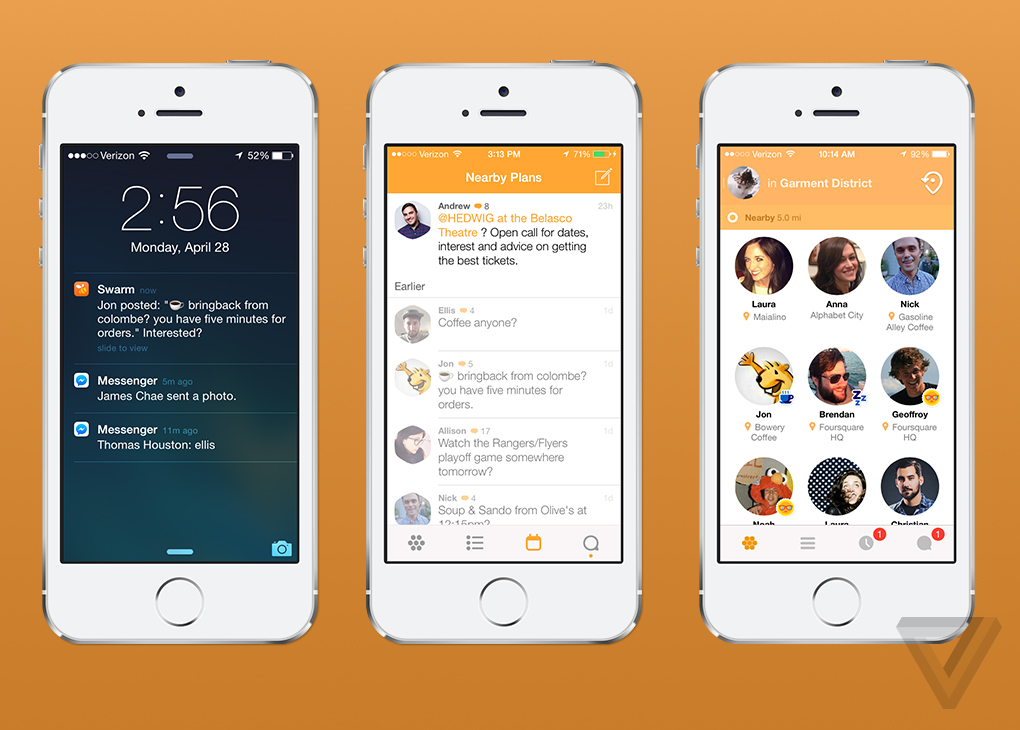 Foursquare has changed a lot. The popular location based social network has gone through several ideological changes in the past and it is at a point where data points to utter confusion for the consumer, as well as for the company, as to what Foursquare actually is. It was initially really popular for its "Check in"s and then the company slowly added more social components to its app, like a discovery engine, a friend feed and more. At this point in time, there are just too many components to the app, and hence the New York based start up has decided to un-bundle some of its core features into a separate app, called Swarm.
Swarm is basically a new version of the friend feed that currently populates the main page of the Foursquare app. Adding a live contextual component like ambient tips, a feed of friends in generalized locations rather than precise pointing and streamlined interaction, Foursquare aims to be the best friend finder app out there, backed by its vast data of points of interests and tips. For example, the Swarm app will always tell you who is nearby and who is doing what, thereby acting as your social heatmap of friend activity. This is all happening in various other apps too, but the interests data that Foursquare has built up during its run is the company's bet on a better experience for the user.
While this new app is a departure from the usual, the original Foursquare application will live alongside Swarm as a social recommendation engine. Aimed directly at other services such as Yelp, Foursquare thinks its crowd sourced points of interests data can power a better experience. Unlike geofencing, Foursquare uses its own technology to calculate your location and provide you contextual tips according to you or your friend's tastes. For example, Foursquare will automatically push tips according to your tastes when you walk into a restaurant without you even checking in. So, yes, check ins are dead, but you can always choose to tweet or post where you are on Facebook.
The Swarm app is not live yet, but you can sign up to get to know as soon as it arrives. Also, The Verge has exclusive details, screenshots and video on Foursquare's big change, all details in the links below.
Source Foursquare | Verge