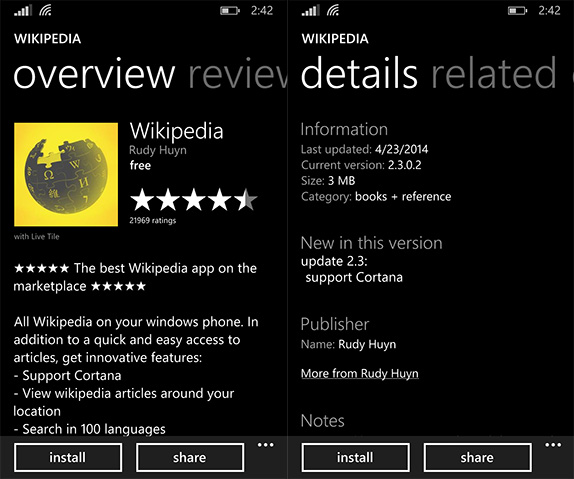 Windows Phone 8.1 has been out as a developer preview for just a little more than a week, but we are already seeing developers updating their apps to support the OS' new features. Among the many apps being updated is Wikipedia, developed by Rudy Huyn. This app is the closest to an official app from one of the world's largest resources for information, as it is made by a popular third party developer with Wikipedia themselves approving and endorsing it for the platform. The app now has been updated to include support for Cortana, the new personal voice assistant and one of the major new features of the OS. Once updated, the v2.3 will let you directly search for topics using your voice by giving simple commands to Cortana.
To be fair, Cortana's third party app integration has already been made available in Windows Phone 8 through the Tell Me voice commands integration, and developers had already added support for it earlier. Like, even on Windows Phone 8.1, the official Twitter app can take tweets from Cortana using voice recognition. This is something impossible with other voice assistants like Siri(Google Now does it though). Having special voice commands for apps is one of the highlights of Cortana and the Wikipedia update makes it even better.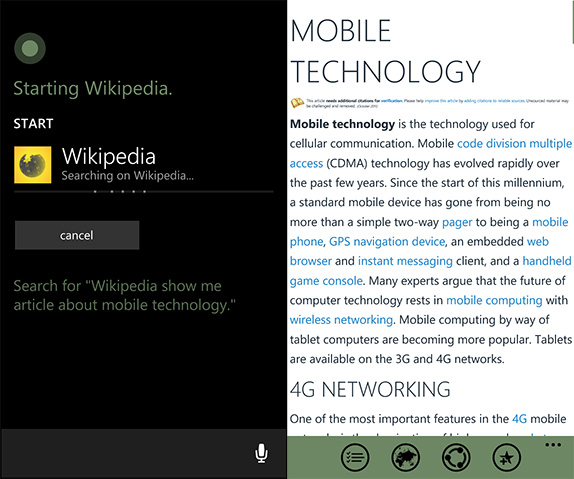 The way it works is shown in the image above. To invoke app commands, one needs to start with the app's name and then proceed with the command. For example, we uttered "Show me articles about mobile technology", and Cortana directly took us to an article with the same title in the app. We think this is really cool, as passing commands to the countless number of third party apps thanks to the APIs is something we definitely need. This is proof that voice commands are maturing fast and real assistance is edging closer to reality. You can update this app from the store if you have it installed, or get it from this link here – Wikipedia for Windows Phone.