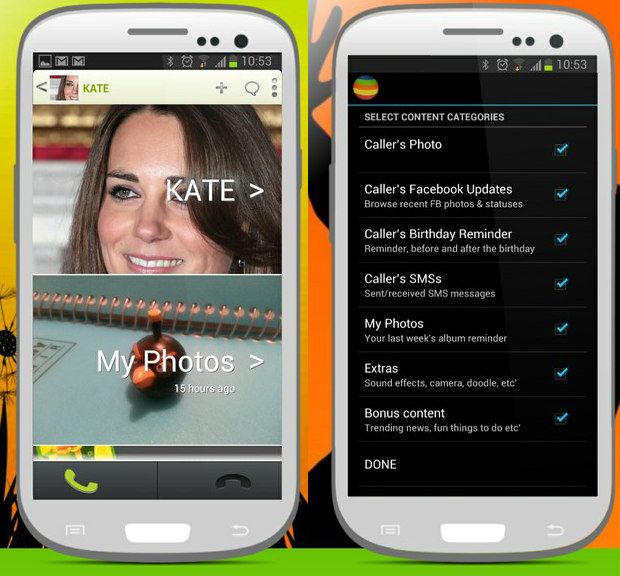 Twiize, Tel-Aviv-based technology startup has launched TalkSide, full screen caller ID app . This is the first ever context-aware app of this kind, says the company. The Context-aware engine prepares the talk for you, even before you call to guess what content users would want to talk about or share during the call, and creates a visual talk feed. It also replaces the default caller image screen with one that is rich in content.  
This app comes after a long beta period (previously named "twiize") with thousands of beta users and over 1 million in-talk page views, says the company. TalkSide uses machine-learning algorithms prior to the call, to carefully select  relevant content, and to produce a magazine-like talk feed.
Features of TalkSide app for Android
Full Caller Image – view full screen caller image, set caller HD photos
Caller's Social/Facebook Updates – browse full screen caller images and statuses (synced with Facebook), and see what he/she's been up to
Birthday Reminder – before and after the birthday. Let's you also send a real-time greeting, while on the phone
Hangin' Out – thinking of things to do together? TalkSide comes up with relevant events around you
SMS Chat History – always remember what was the last topic you talked about
Happening Now – never stay without things to talk about – TalkSide comes up with trending RSS news on topics you care about
My photos – don't remember what you've been up to? TalkSide reminds you of your recent gallery photos, and while you're at it, you can share them without leaving the conversation
Fun extras – sound effects to play on the call, built-in camera and more
Single click to send – send items by SMS messages, Whatsapp or Facebook during the call
Regarding the new app, Twiize founder and VP Content Michal Milstein, said,
TalkSide doesn't replace your talk, it adds color to it . Today, people don't like talking on the phone as much as they used to. TalkSide lets them enjoy phone calls a little more, bringing their own digital world of content into the conversation.
Download TalkSide (Free) – Google Play