To cash in on the popularity of Friendship Day amongst the youth, Samsung is offering a heavy discount on some of  its most popular handsets. Starting from August 1st to 31st, the smartphone manufacturer will subsidize the Galaxy S4, Galaxy S Duos, Galaxy Core and Galaxy Mega 5.8 handsets. The discounts are on some of the most popular devices across categories.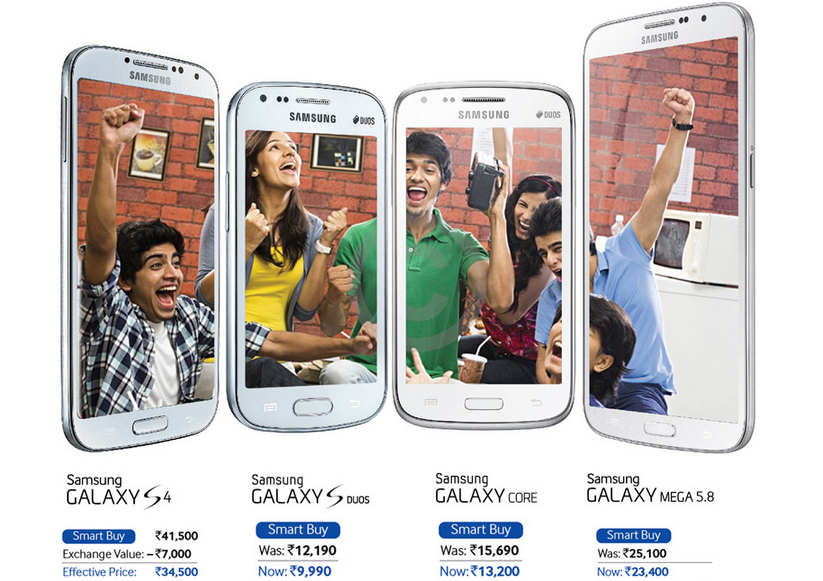 The discounted price points are listed below.
Galaxy S4′s price reduced to Rs. 34,500 from Rs. 41,500 and it is available with zero percent EMI for 12 months(Rs. 2,875 per month)
Galaxy Mega 5.8′s price reduced to Rs. 23,400 from Rs. 25,100 and it comes with a zero percent 6month EMI at Rs. 3,900 per month
Galaxy Core will be available for Rs. 13,200 compared to the original price point of Rs. 15,690.
The entry level Galaxy S Duos is being priced at Rs. 9,990 instead of Rs. 12,190 for the duration of the offer.
As mentioned earlier, the offer will be valid from 1st to 31st August. The revised pricing of the Samsung Galaxy S4 is after exchange of your old handset. Other phones part of the offer do not require any exchange.