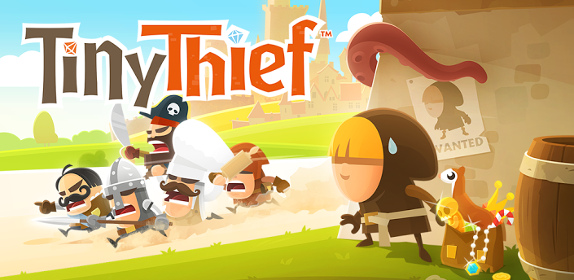 Rovio, the creators of the popular Angry Birds franchise has published Tiny Thief, a new game for Android, iPhone and iPad. Rovio published Icebreaker: A Viking Voyage last month through Rovio Stars, the new mobile game publishing program. In this game you play as Tiny Thief, an unconventional hero who uses cunning and trickery to out-smart his opponents across six epic medieval adventures. You need to solve the puzzles using interactive gameplay elements. There are over 3500 animations in the game that offers a fun filled gameplay.
Features of Tiny Thief for Android, iPhone and iPad
Six big adventures – sneak and steal your way through six epic quests, featuring an awesome pirate ship and daring castle siege!
Use cunning and skill – out-smart your tricky opponents using the element of surprise and some downright sneakiness!
Unexpected surprises – explore fully interactive levels and uncover hidden treasures and other surprises at every turn
Download Tiny Thief – Android ($2.99 / Rs. 209) | iPhone and iPad ($2.99 / Rs. 170).