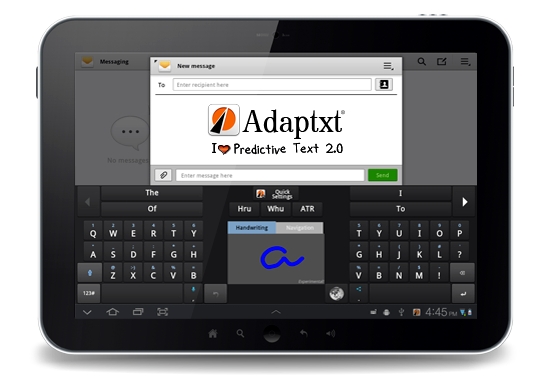 KeyPoint Technologies has launched Adaptxt Keyboard v 1.0 Beta for Android Tablets. They launched the Adaptxt keyboard for Android that has been updated with new features. It is powered by Predictive Text 2.0 and provides extremely accurate and relevant text prediction, error-correction and auto-correction. It has better layout, split keyboard for two thumb typing thereby increasing the typing speed and support for 50+ languages.
Features of Adaptxt Keyboard Tablet Beta v1.0
Enhanced Tablet Layouts
Split keyboard
ATR – Automatic Text Replacement using ATR shortcuts
New Ergonomically designed Repositionable Suggestion bar
Accented suggestions
Adaptxt Quick settings
Intelligent Installation wizard
Handwriting Recognition – Experimental Feature
Support for 50+ languages
Industry-specific dictionaries like Law, Medicine, Finance, IT and Telecoms, etc.
Download Adaptxt Keyboard Tablet Beta for Android from the Google Play Store and Get Jar for free.