Home » Android, apps, iPad, iPhone, Software
Milna – Location based Social Networking app for Android and iPhone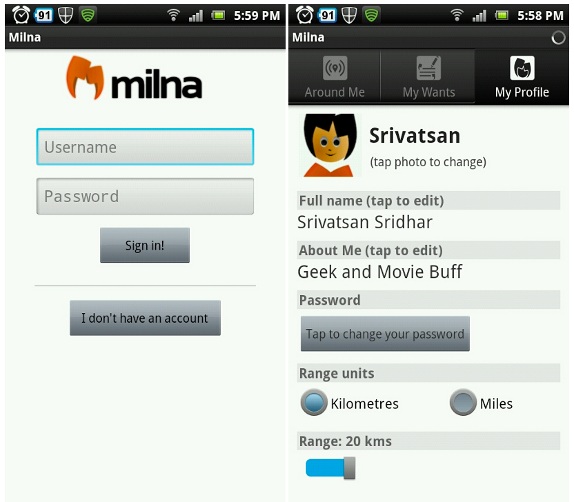 Milna is a location based social networking app for Android and iPhone. This is totally fun app that lets you to express what you want, with others near you. This is visible to other people who are using the app in and around 5 mile radius (configurable).
Features of Milna app for Android and iPhone
Post what you want and wait for comments for others with the similar interest
View what other around you want including when they posted it and reply to them
Uses 3G or WiFi and your GPS co-ordinates to communicate with fellow Milna
Visible to others around 5 mile to 100 mile radius
Edit your profile with your image and description about you
Checkout the video that shows how useful Milna is for a bunch of musicians to form a band
httpv://www.youtube.com/watch?v=5x7oWzqvV6M
You need to register (Just takes few seconds) before using the app using a unique name and password. Download the Milna app for Android (2.2 and above) from the Android Market and for the iPhone (iOS 4.0 and later) from the Apple iTunes store for free.