Looks like RIM and Vodafone finally realized that it's existing  plans were still not affordable for the average user.So they have come up with attractive daily rental plans for the Blackberry Service.Vodafone customers can choose from daily, three day, weekly and monthly Blackberry plans. The plans will give users unlimited access to email, BlackBerry Messenger, instant messaging, social networking and Internet browsing and also BlackBerry AppWorld app store.The plans start at Rs.15 per day for unlimited usage!

Kumar Ramanathan, Chief Marketing Officer, Vodafone Essar Ltd. "We are extremely pleased to announce the launch of BlackBerry service plans for our prepaid customers. This segment is highly cost conscious and through the democratization of data services, we are providing an entry threshold at an accessible price point of just Rs. 15 per day. We believe that this initiative will appeal to young professionals, students and a broad spectrum of retail customers who are looking for an exceptional experience for messaging, social networking, email, music and entertainment – on the go! RIM is known for its exceptional mobile communications and strong business reputation and we are delighted to continue our long term alliance. We are certain that our prepaid customers will benefit from the compelling functionality of the BlackBerry solution that's delivered across our reliable and extensive network in India."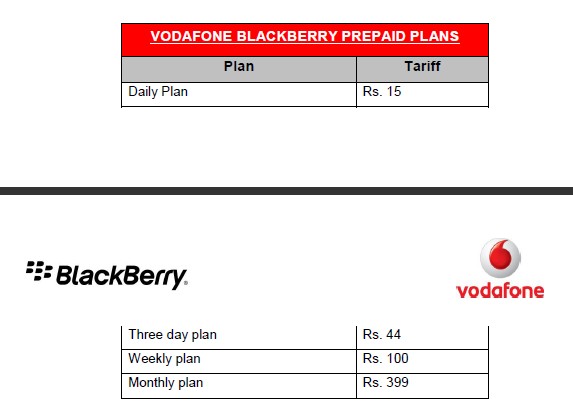 Frenny Bawa, Managing Director, India, Research In Motion said. "RIM is delighted to work with Vodafone to introduce smart and flexible BlackBerry service plans for prepaid customers in India. Vodafone's prepaid customers will now be able to stay connected with friends, family and colleagues around the world."
Vodafone is also giving  30 minute window for activating the service !
Are you going to get a Blackberry or atleast try it for day ?