Whatsapp has been acquired by Facebook is slowly sinking into everybody and now, Whatsapp have updated their Android application with features that were there in the beta version. The latest update to Whatsapp adds some very important privacy options like letting you to disable "last seen" feature.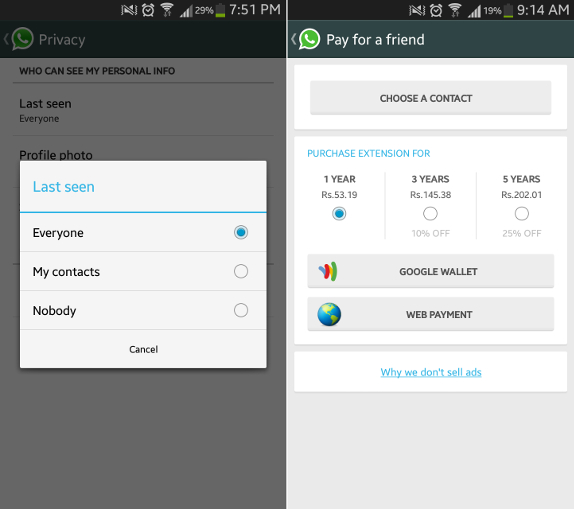 Along with this major privacy change, Whatsapp is also bringing another major change. With the latest update, one can now pay for another user's subscription. This is a great move from Whatsapp in countries like India where majority of the people do not have access to credit cards. With this facility, it will become easier for them to renew their Whatsapp subscription through their friend.
That is not all. Here is a full list of updated features that you can find in the latest version – 2.11.186
What's New
2.11.186

new privacy settings for last seen, profile photo and status
add Camera shortcut for quicker picture sending
add ability to pay for a friend's WhatsApp service
add large video thumbnails in chat
add option to show unread messages on home screen widget (Android 3.0+)
add option to share/save profile photo/group icon
increase message history user can send
fix sending flag emoji on Sony phones
fix voice note recording volume on Samsung Note 3 and Sony phones
enabled Hindi (Android 4.1+)
If you are an Android user, you can head over to the Google Play Store to get the latest update.