Have you ever wanted an external split keyboard which is foldable, does not use any battery, does not need to be charged, has no wires, no pairing and is waterproof? Well then the One2Touch keyboard is what you have been waiting for.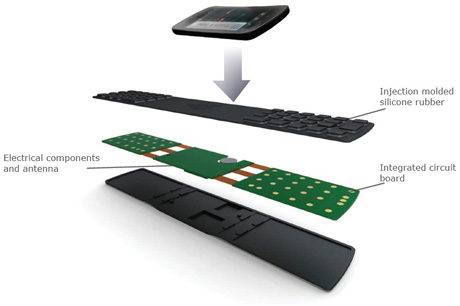 From the look of the video below we can see that the device just has to be placed in space provided and start typing on the keyboard. The keyboard comes with NFC built in, and NFC pairing between both the devices is needed for the keyboard to work, but the video says there is no kind of pairing, this confuses me a bit. How can the keyboard work without any kind of pairing? Well we will have to wait until the devices launches and the reviews surface.
httpv://www.youtube.com/watch?v=t8CWUv1lH64
Though the concept sounds really interesting, the price is a let down, it costs around $65 which is too high for just a keyboard. Also the space for the phone to be placed does not look that big, I wonder whether my Galaxy Nexus would fit in. Well, we will get to know more once it has been launched so stay tuned.
Source: NFCworld