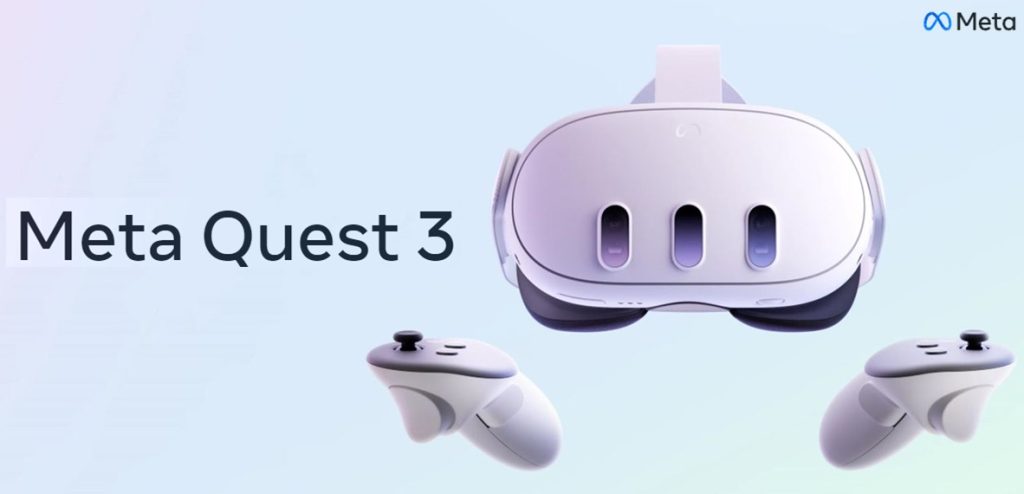 Meta has introduced the Meta Quest 3, a new Mixed Reality headset for everyday use. This headset offers unique experiences, like playing a virtual piano on your table or creating portals to other worlds in your living room. It maintains a clear view of your surroundings using high-quality Passthrough technology, with more pixels than the previous Meta Quest 2.
The Meta Quest 3 has impressive features, including 4K+ Infinite Displays with a 90Hz refresh rate (or 120Hz in experimental mode). This results in a 30% increase in resolution compared to the Quest 2. The visuals are stunning, providing excellent resolution and a wide field of view.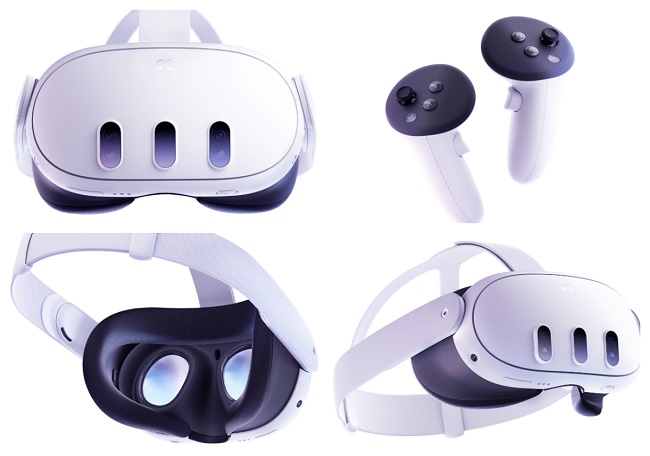 This headset is more comfortable and customizable than its predecessor, with a slimmer design and a better weight distribution. It accommodates glasses wearers and various face shapes with its adjustable strap. It also supports hand tracking, allowing you to navigate and control without a controller.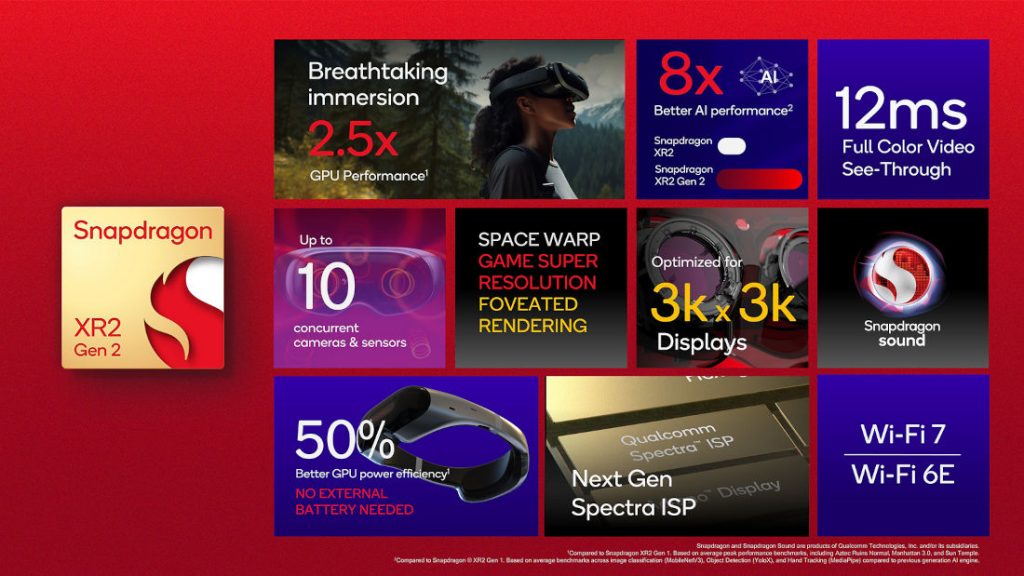 The Quest 3 is powered by the Snapdragon XR2 Gen 2 platform, offering fast load times and detailed graphics. It comes in two storage options: 128GB and 512GB, paired with 8GB RAM, with up to 2.2 hours of usage on average. It also has improved spatial audio, delivering clear sound and a 40% louder range than the Quest 2.
Additionally, the Quest 3 provides access to over 500 titles, including Meta Quest apps, games, and experiences. You can also connect it to your PC using the Meta Quest Link Cable or Air Link for more versatility.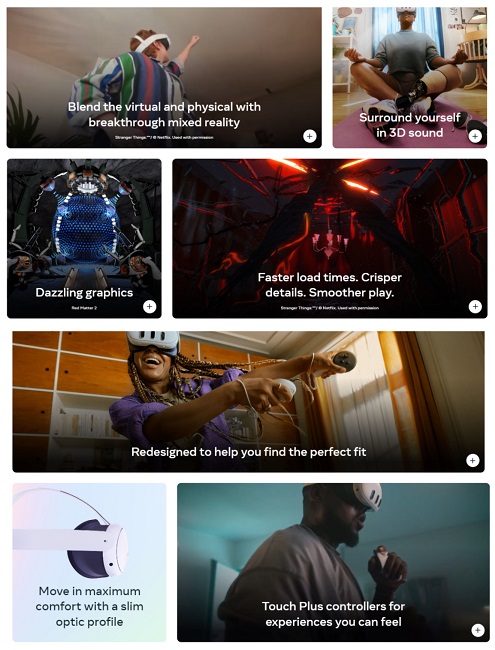 Quick specifications: Meta Quest 3
Design: Soft adjustable strap; Hard strap (sold separately)
Adjustment: Facial interface closer or farther
Display: 4K+ Infinite Display with 25PPD and 1218 PPI; 2064×2208 pixels, 90Hz, 120Hz (experimental), FOV 110° horizontal and 96° vertical
Optics: Pancake lens provides a slimmer optic profile
Lens adjustment: (Inter Pupillary Distance (IPD) ranges from 58mm-71mm).
Processor: Snapdragon XR2 Gen 2
Storage: 128GB/512GB; RAM: 8GB
Mixed Reality: 2 RGB cameras with 18 PPD, for 10X the resolution
Audio: 3D spatial audio
Battery life: Up to 2.2 hours of usage on average; Charging: 18W
Connectivity: Wi-Fi 6E
Privacy: External LED notifies bystanders (when cameras are in use)
Data Protection: Advanced encryption plus customized settings
Touch Plus controllers; TryTouch variable haptics
Mixed reality passthrough: 2 RGB Color cameras
Direct Touch Hand Tracking: with 4 IR cameras and 2 RGB cameras
Content Library: 500+ titles, Full access to Meta Quest apps, games and experiences
PC Support: Meta Quest Link Cable and Air Link
Weight: 515g
Pricing and availability
Meta Quest 3 is set to become available on October 10th, and you can already pre-order it at meta.com. The pricing begins at USD 499.99 (Rs. 41,610 approx.) for the 128GB version and USD 649.99 (Rs. 54,094 approx.) for the 512GB version.