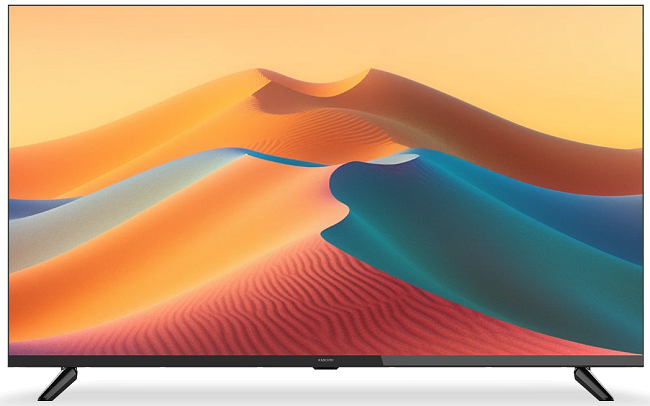 In the first half of 2023, 4.5 million televisions were delivered to India, marking an 8% increase compared to the previous year, according to International Data Corporation (IDC) Quarterly Smart Home Devices Tracker. This growth can be attributed to:
Online Sales and Screen Size Trends
The first half of 2023 saw a significant growth in the online channel's market share, which increased by 25% YoY, reaching 39%. This surge was primarily fueled by online sales festivals.
In terms of TV screen size preferences, while 32-inch and 43-inch TVs continue to be popular, there's a noticeable shift towards larger screens. Specifically, the market share of 55-inch TVs rose from 9% to 12% in 1H23, marking a 35% YoY growth in the higher-priced segment ($400+).
Affordable Smart TVs and Features
The average selling price (ASP) of smart TVs dropped by 3% to $380 in the first half of 2023, as brands shifted their focus towards more affordable models. This strategy led to a rise in the market share of the sub-$200 segment from 26% to 39%.
In terms of features, there was a 33% YoY increase in the popularity of built-in storage with 8GB capacity. Consumers also favored visual aesthetics such as narrow and bezel-less designs. Other sought-after features included HDR, improved color coverage (DCI-P3), and Dolby certification.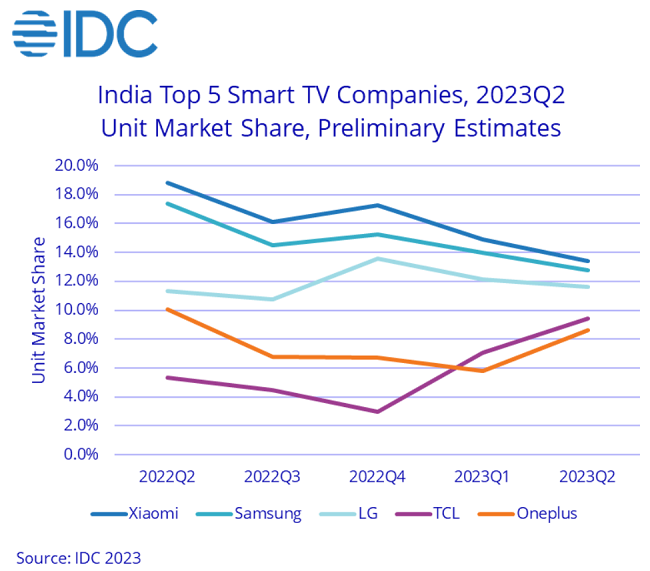 Top 5 TV Companies in 1Q23
Xiaomi: Leading the TV market with a 14% share in 1H23, Xiaomi's focus on the 5A and Redmi series has been instrumental. They also dominate the HD and FHD segment with a 23% share.
Samsung: Securing second place with a 13% market share in 1H23, Samsung's budget-friendly T4000 series gained popularity. They hold a significant 25% share in the 4K TV market and over 90% in the 8K TV segment.
LG: In third place with a 12% share in 1H23, LG's Nano cell and OLED TVs are on the rise. They lead the 4K TV segment with a commanding 26% share in 1Q23, thanks to their in-house manufacturing.
TCL: Taking the fourth spot with an 8% share, TCL's newly launched S series TV drove shipment growth in 1Q23. Their Mini-LED TVs are gaining popularity, and they've initiated panel manufacturing in India.
OnePlus: Securing fifth position with a 7% share, OnePlus saw significant shipments of their budget series Y1 and Y1S in recent quarters.
Market Expectations for 2023
In 2022, India received 9.8 million TV units, marking a 7% YoY growth. Normalization of panel prices led to reduced end consumer prices, driving this growth. The sub-$200 price segment was the most popular, with nearly 45% of 32-inch screen models falling in this category.
IDC anticipates that 2023 will see flat or single-digit growth, mainly driven by the festive season and an abundance of offers and discounts across channels.
Commenting on the report, Upasana Joshi, Research Manager, Client Devices, IDC India, said:
With the drop in prices, smart TVs have become more affordable, leading consumers to prefer buying them over upgrading their non-smart TVs with streaming sticks. As a result, streaming sticks are losing their appeal, with their shipments witnessing a steep decline of 85% in the first half of 2023.