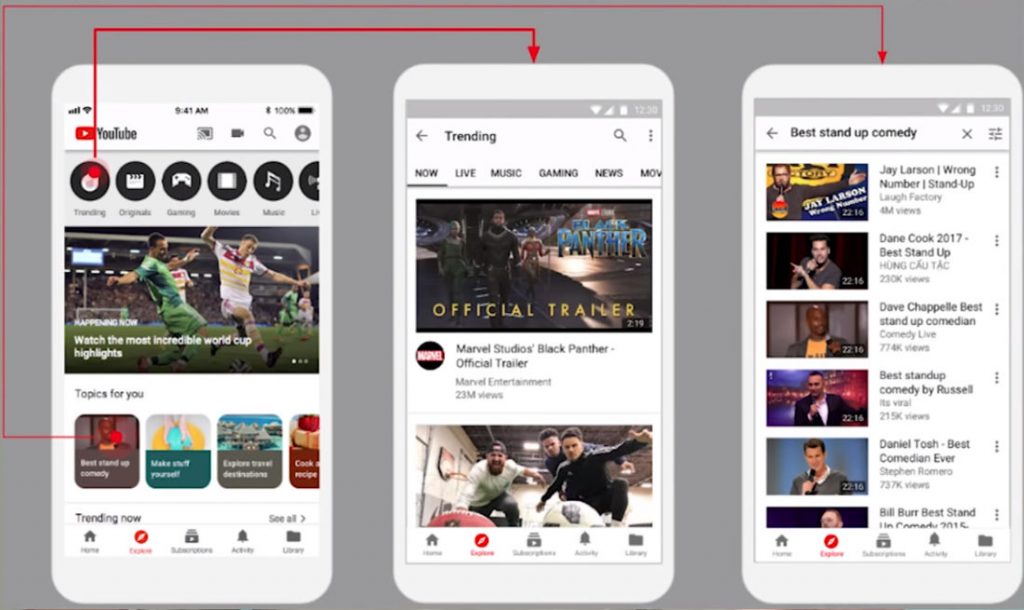 Update – August 30: A month after testing on iOS, YouTube has announced that the new Explore tab is now being tested on Android. It recently expanded to 2% of iOS users. The company might release it to everyone in the coming months based on the feedback from users since this is still an experimental feature.
We're now testing out the Explore tab on more devices and platforms, including Android!

This is still an experimental feature so if you see the update, let us know what you think by sending feedback → https://t.co/lJjBNUumCO https://t.co/4HbCPM4JHI

— Team YouTube (@TeamYouTube) August 28, 2018
Earlier: With hundreds of videos getting uploaded on YouTube, it gets tough for videos to be found by users. To solve this, YouTube on iOS is now testing a new "Explore" tab, which will help you discover more videos, topics, and channels.
The company clearly states that this is an experimental feature, so will only work for a small group of users who are using the YouTube app on iPhones. They will see the Explore tab in the bottom navigation. If you're part of the test group. Users will see the content from Trending now exists in a section of Explore.
The new Explorer section will recommend videos based on what viewers are watching, but with a "broader scope." To put it in simple words, The Explorer tab is much similar to the Explorer tab on Instagram. The company, however, didn't mention any details regarding the public rollout or availability for Android.
YouTube in the forum said:
With more videos coming to YouTube every minute we're always experimenting with ways to make it easier for people to find, watch and share the videos that matter most to them. One thing we'll be testing on iOS over the new few weeks is a new "Explore" tab, which will help you discover more videos, topics, and channels that you might not otherwise see. We also hope Explore will be a space where creators of all sizes, including emerging creators, can have their content discovered.