ARM today announced the Cortex-A76 CPU, Mali-G76 GPU, and the Mali-V76 Video Processing Unit. The Cortex-A76 CPU is a new microarchitecture enabling 35 percent more performance year-over-year for increased productivity and ARM-G76 GPU offers untethered gaming and on-device machine learning (ML) with 30 percent higher efficiency and performance over previous generations.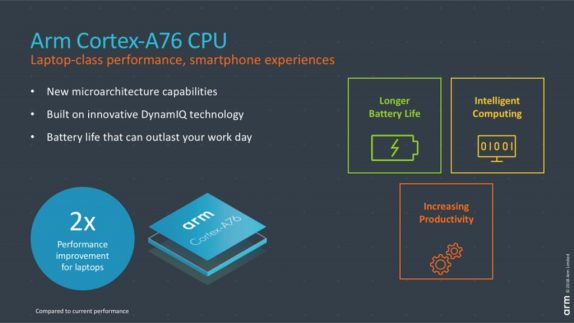 The new Arm Cortex-A76 CPU is based on DynamIQ technology that is capable of delivering laptop-class performance while maintaining the power efficiency of a smartphone. It also delivers over 35% YoY performance gain along with 40 percent improved efficiency. It also delivers 4x compute performance improvements for AI/ML enabling responsive, secure experiences on PCs and smartphones.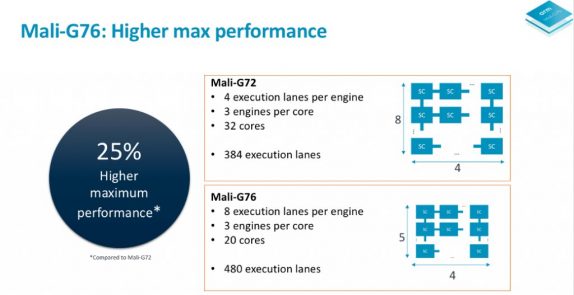 The Mali-G76 GPU is a High-performance gaming, cross-platform experiences and it delivers 30% more efficiency and performance density. These enhancements provide developers with more performance headroom to bring more high-end gaming titles to mobile app ecosystems and enable them to write new apps that integrate augmented and virtual reality. Mali GPUs are used usually on Samsung, HiSilicon, and MediaTek products.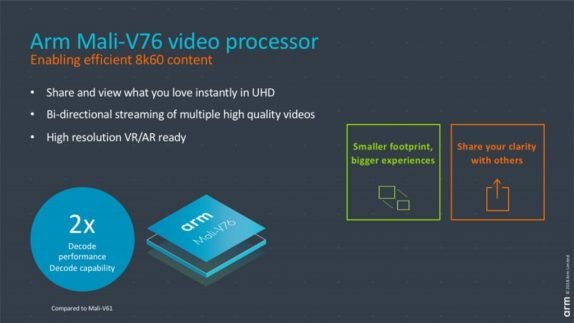 Lastly, the ARM Mali-V76 is a video processing unit that supports 8K decode up to 60fps or four 4K streams at 60fps giving users the opportunity to stream four movies, record video while video conferencing, or watch four games in 4K. The ARM  Mali-G76 will support up to 16 streams of content, creating a 4×4 video wall, a very popular use case in the Chinese market. The VPU has 2x decode performance, is 40% smaller than its predecessor, and has a 25% encode quality improvement.