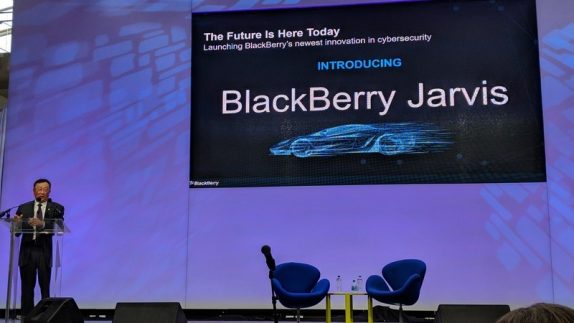 BlackBerry in a keynote address at the North American International Automotive Show (NAIAS) announced Jarvis transformational cybersecurity software. The company says that it is initially marketing the solution to automakers whose complex software supply chains create compelling and urgent use cases that Jarvis can help solve today.
BlackBerry further mentioned that Jarvis is applicable to other industry segments including healthcare, industrial automation, aerospace, and defense and other fields which has the immediate need for the product. The software is built on the company's  cybersecurity expertise and proprietary technology and it is one-of-its-kind cloud-based static binary code scanning solution that identifies vulnerabilities in software used in automobiles.
Jarvis scans and delivers deep actionable insights in minutes instead of manual scanning that will take large numbers of experts and considerably longer time. The Jarvis software will be offered on a pay-as-you-go usage basis and is customized uniquely to meet the requirements each OEM and their entire software supply chain. Once it is initiated by the automaker, they will have online access to Jarvis and can scan any number of binary files at every stage of software development.
Once the scan is finished, the development team will have immediate and complete access to results via user-friendly dashboards with specific cautions and advisories. The company is focusing on security as the software industry standards such as MISRA and CERT features. It also offers flexibility to OEMs to define custom rules to meet specific objectives.
BlackBerry has already started trails of Jarvis with some of the largest automakers including Jaguar Land Rover.
Commenting on the same, John Chen, Executive Chairman and CEO, BlackBerry said:
Jarvis is a game-changer for OEMs because for the first time they have a complete, consistent, and near real-time view into the security posture of a vehicle's entire code base along with the insights and deep learning needed to predict and fix vulnerabilities, ensure compliance, and remain a step ahead of bad actors.
Dr. Ralf Speth, CEO, Jaguar Land Rover said:
Jaguar Land Rover and BlackBerry share a common objective in bringing the most intelligent vehicles to reality. BlackBerry Jarvis addresses the software cybersecurity needs of the automotive industry.  In our independent study, Jarvis delivered excellent efficiencies in time-to-market, significantly reducing the time to security assess code from thirty days to seven minutes. The productivity delivered by Jarvis combined with BlackBerry's trusted security heritage can transform vehicle safety.