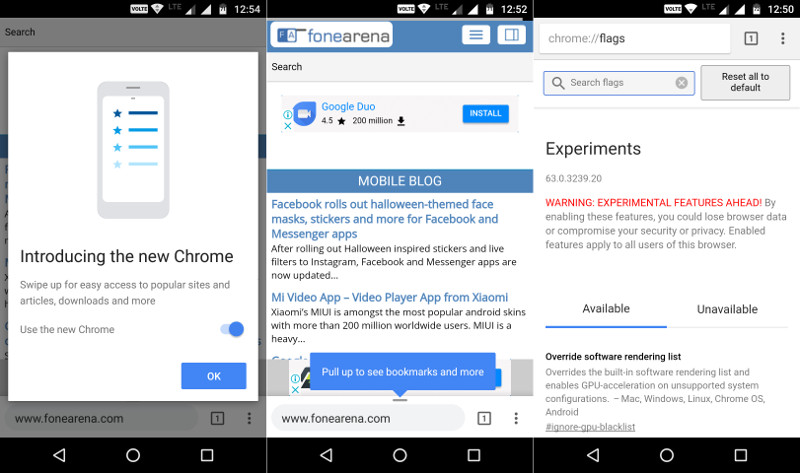 Google has started rolling out Chrome 63 for Android after testing it in beta for over a month. The update brings new flags page, minimal U.I for web apps, and major changes to Chrome Home U.I which looks like the company is giving finishing touches for a wide-roll out. 
Google since last year October has been revamping the Chrome Home U.I, and it started taking shape in March this year. The company later in August has again revamped the Home U.I which was rolled out in Chrome 62. Though the update has been rolled out a while, the majority of the users are still stuck with the old design by default. However, with Chrome 63 which is rolling out from today, it looks like Google is giving finishing touches for a wide-roll out.
The new Flags in the Chrome 63; 'Chrome Home Promo' (#enable-chrome-home-promo), adds an item to the overflow menu titled 'You're using the new Chrome.' Tapping on the flag opens a popup explaining the new interface along with a switch to disable it entirely. Another flag bar added is the Chrome Opt-out Snackbar' which when a user chooses to disable the new Chrome U.I from the above pop-up asks users to take a survey. These two flags will be enabled whenever the new Home U.I is ready for a roll out to everyone.
The flags section which mostly has options and features that let users experiment has barely seen any changes over the past few months is finally changing with a new design in the Chrome 63. The new Flag section interface looks much cleaner, and all the options are sorted between available and unavailable and there is also a search button for flags at the top.
With the Chrome 63, Google is adding a new 'Minimal UI. which makes the web apps or site that you add to your home screen look like a Chrome Custom Tab. The web app can define the U.I color and it also gives you the ability to access the current URL, like blogs or news sites. Other features of Chrome 63 include improvements to auto-completion in the address bar, new Device Memory API allows sites to determine how much RAM your device has. Chrome for Android now shows permission prompts as pop-ups, instead of banners at the bottom of the chrome tab.
The update has started rolling out, you can either update the app via PlayStore or download and side-load the Google signed safe to install APK from here.