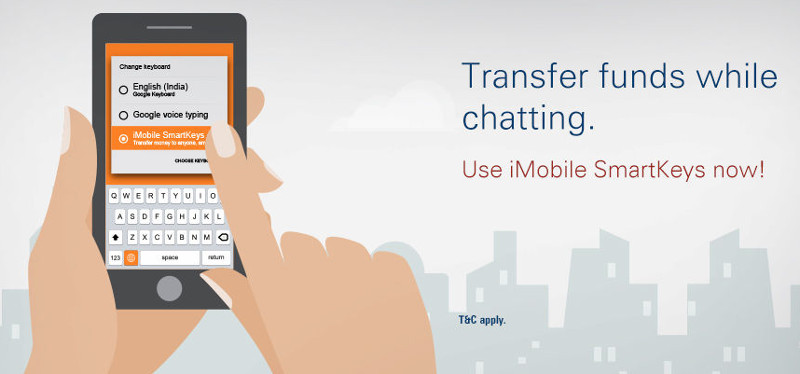 ICICI Bank has unveiled a payment service dubbed as iMobile SmartKeys that uses smartphone keyboard to make quick and secure payments.
The service allows users to transfer money to their registered beneficiaries, pay their utility bills as well as recharge their mobile numbers. It can be initiated from any social messenger, SMS , email by simply switching default keyboard or anytime whenever default keyboard is opened in mobile phone. The 'iMobile SmartKeys' cab be accessed by long pressing the 'globe icon' on their smartphone keyboard while using their device. This will enable users to make payments without having to exit the current application and launching another tab.
The 'iMobile SmartKeys' solution is developed by one of the winners at the 'ICICI Appathon', the country's largest virtual mobile app development challenge that was organized by the Bank earlier this year. As a testimony towards nurturing young developers, ICICI Bank has incorporated this innovative solution into its mobile banking app within a quarter of the completion of 'ICICI Appathon'.
To activate 'iMobile SmartKeys'
Update/ Download the iMobile app from the Apple store. The 'iMobile SmartKeys' is built into the new app update.
Initiate a one-time addition of keyboard using the path; Phone Setting > General > Keyboard > Keyboards > Add New keyboard > Under Third Party keyboard – 'iMobile'. Also enable Allow Full Access for the keyboard.
They need to authenticate themselves using Login PIN or Touch ID as per their chosen login method with the Bank. Users can now simply select the payee from the registered payee list and transfer money.
Madhivanan, Group Executive and Chief Technology & Digital Officer, ICICI Bank said,
We are delighted to introduce 'iMobile SmartKeys', which is a testimony to our continuing co-creation initiatives with innovative technopreneurs. We believe that this feature will deliver an unparalleled banking experience to our customers by enabling quick and secure payments without having to switch any tab or applications within their smartphones.
The app is currently available currently for iPhone and will be available for Android soon.