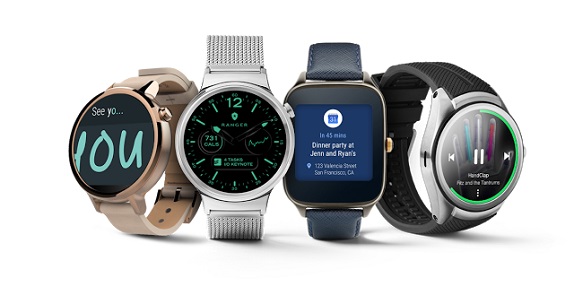 Google announced Android Wear 2.0 with a slew of new features, design tweaks and more at the I/O developer conference yesterday. The Android Wear platform has received a significant update since its launch two years back.
Android Wear apps can now access internet directly over Bluetooth, Wi-Fi, or cellular as they don't rely on the Data Layer APIs. This essentially means your app can continue to offer full functionality even if the paired phone is far away or turned off. The update allows an app to receive push messages via Google Cloud Messaging and access directly on the watch.
Next up, Android Wear 2.0 comes with a revamped UI that focuses on improved interaction. There is an addition of new notification design and app launcher that makes it easier to take action on notifications and launch your app. Another cool addition is a watch face picker that makes switching watch faces fast and fun. The system UI adorns a dark color palette and makes better use of round displays.
The next addition is the new Material Design for Wearables guide that assists in making app's interface more consistent and intuitive. The new navigation drawer and action drawer components in the Wearable support library make it easy to align your app with the system UI's new vertical layout.

One of the most important additions is the inclusion of three input methods viz, handwriting, smart reply and gesture keyboard. Handwriting keyboard scrolls as you draw letters and numbers with your finger while smart reply includes a set of suggested responses based on the context of a conversation. Finally, there is gesture keyboard that is similar to the Google Keyboard for phones and tablets. Android Wear also gets a notification template with a layout optimized for quick and responsive messaging.
Watchfaces will gain the ability to show data from other apps. In case of fitness improvements, Android Wear now makes it easier to develop apps that use fitness data and detect activity. It gets the Activity Recognition features of Google Fit. Finally, Android Wear apps can now take advantage of the latest Android N features such as Data Saver, Java 8 Lambda support, and emojis.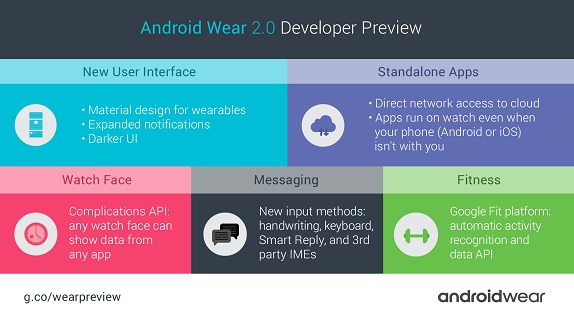 Android Wear 2.0 will be available to users this fall however the Developer Preview is already available.Google plans to release additional updates throughout the summer.