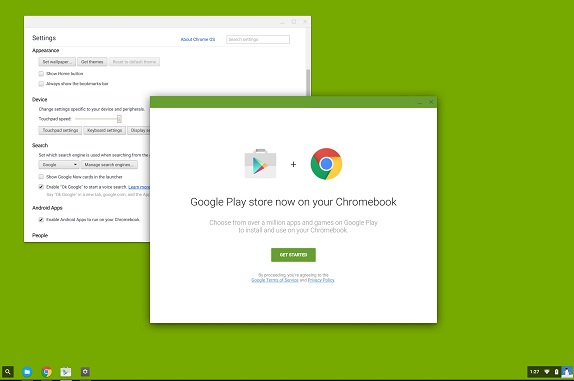 It looks like Google Chrome OS could soon run all Android apps on Play Store. A Reddit user has recently come across the developer version of the platform with an option to run Android apps on it.
The latest build that is being tested on Chromebooks has been spotted to feature a cleaner user interface in line with Material Design and ability to get apps from Android's Play Store. The feature that was spotted in Chrome OS v51 was accompanied by a checkbox in their settings menu that reads "Enable Android apps to run on your Chromebook." In addition, the Chrome OS source code appears to indicate that Chromebook users will soon get access to the "more than a million" games and apps on the Google Play Store.
Google had earlier launched App RunTime for Chrome (ARC) which allowed for select developers to port their Android apps to Chrome OS, but the new feature means that all apps on Android Play Store will soon run on Chrome OS. However, only a handful of apps including Duolingo, Evernote, Sight Words, and Vine were ported to Chrome OS.
In October 2015 WSJ report stated that Google plans to merge its Chrome OS with Android. It is expected that the new single OS will be launched in 2017, although an early build could be revealed by 2016. The number of apps on Chrome Web Store is currently limited and hence the addition of Android apps will be a welcome move that will result in better productivity for Chromebook users.