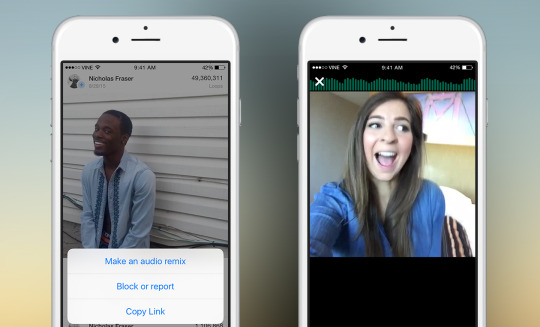 Vines are quite a popular trend nowadays since they are able to entertain people and grab their attention in such a short time span. More often than not, people love to do their own versions of popular Vine videos and the audio remix feature helps people do it much easier.
If you have a particular Vine that you like and you want to make your own version of the Vine, then things have gotten a whole lot easier now. All you have to do now is tap the options button and click on make an audio remix.
The app will then open up the camera for you and would have already loaded the audio track as well. You can then either record a new video or import an existing one to make a Vine just as you normally would. There is also a new discovery feature that goes hand in hand with the audio remix function. Users can now search for Vines that are using the same audio track. The app would also show the original Vine from which a series of other Vines were inspired from. The audio remix feature is now available for users on both iOS and Android.