Flipkart has launched a new service that works as a social network as well as a messaging app. Dubbed as Ping, the service allows users to have real-time conversations with friends in order to get feedback about a product they plan on buying, or help friends get in on the decision of what to buy.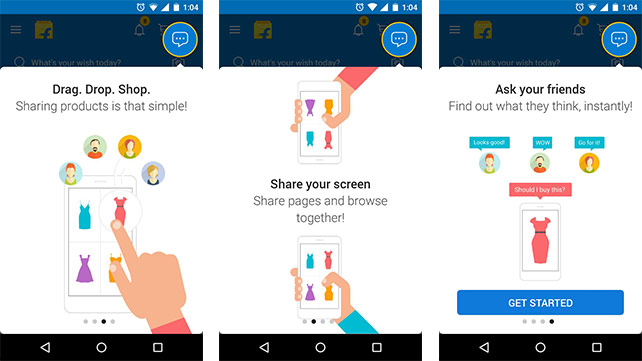 Users can share images, wishlists and items in your carts with friends. Moving on, the feature allows users to drag and drop products directly into conversations and also lets users share their screen so that they can browse products together with friends. Ping is currently available to Flipkart users only if they have been invited to it. Users who already have a feature in their app can invite other people in their phone book contact by simply sending an SMS.
The chat interface is similar to Facebook messenger and boasts of chat heads which can be moved around the screen and dismissed by dragging them to the bottom. At present, Ping will feature for iOS and Android only. The app is only 2MB in size and has been developed to consume less data, less battery and is compatible with any smartphone running on Android 2.1 and above. Flipkart claimed that around 50 million of its users are on mobile who spend 59 minutes per month on the app as per a survey by Nielson. Last month, Snapdeal also launched a new app called Shopo which allows buyers and sellers to interact with each other via an inbuilt chat app.