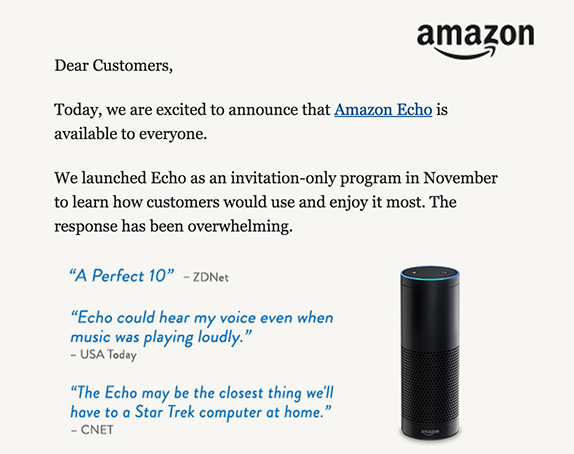 Amazon Echo is a smart speaker that doubles up as a virtual assistant. It was announced by Amazon late last year in November. It was a pretty neat piece of tech but the issue is that hardly anyone had access to it since it was based on an invite only system of purchase. Now happily that invite system has been removed and everyone can get their hands on the device.
Earlier invited members could purchase the Echo for a price of US$ 199 while Amazon Prime members could purchase it for just US$ 99. All you have to do is head over to the Amazon Echo page and you can directly buy it at a price of US$ 179.99 without any invites. It will take a while for Amazon to ship the unit out to you as it is expected to be in stock starting from July 14th onwards.
The price might be a bit steep for a wireless speaker but the Echo isn't just any other speaker. It connects to the internet and becomes your own virtual assistant. You can ask questions about news, weather, shopping, sports etc. It even has the ability to add items to your shopping cart, control home automation, set reminders or alarms etc. It also has an app that allows you to view and control aspects of the device.