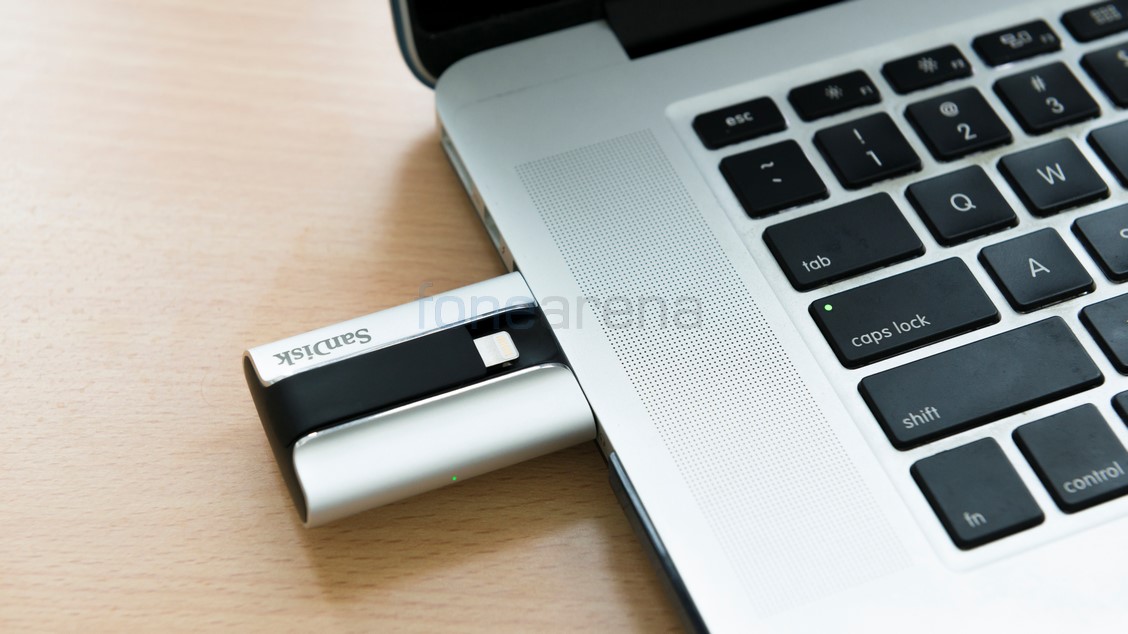 The SanDisk iXpand is a flash drive that allows OTG transfers between your computer and your iOS devices. It isn't just your ordinary USB OTG drive and has a few tricks up it's sleeve. Let's dive into our review to learn more about the device and how it performs.
Video Review
httpv://www.youtube.com/watch?v=R9NzXVSPfTA
Design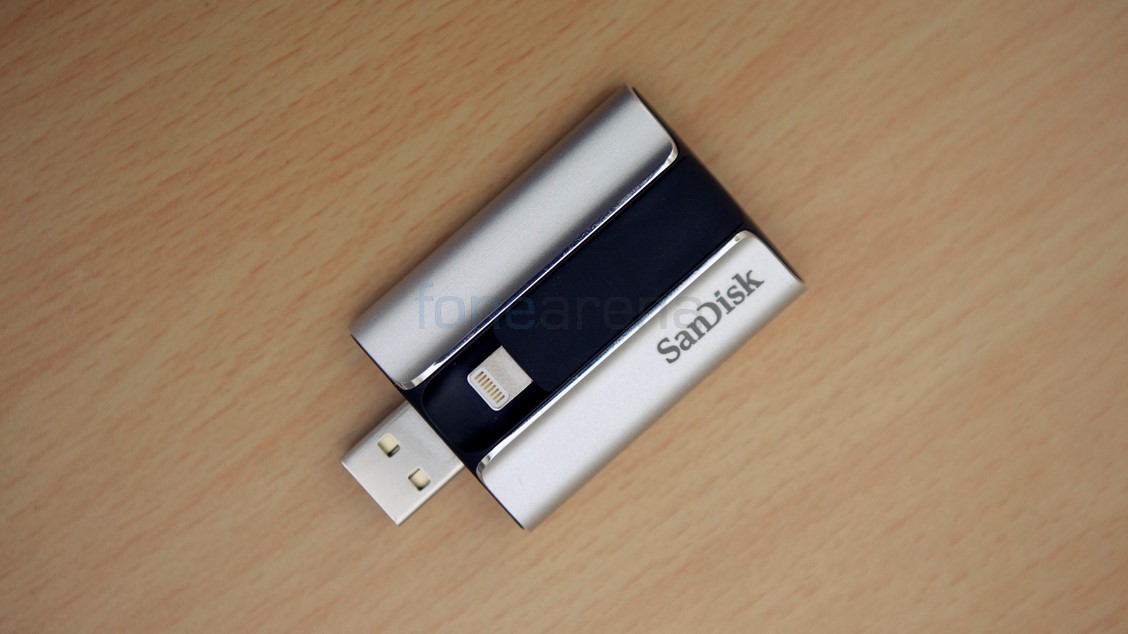 The first thing that pops into your head when you see or hold the iXpand drive for the first time is "Why is this device bigger than other flash drive/OTG enabled flash drives?". Well that is because the device also packs a battery inside it apart from the storage. The device has a built in battery that needs to be charged in order to use it with your iOS device. You can charge it by plugging the USB port to any computer or laptop. You can also charge it by plugging into any wall adapter that has a USB socket.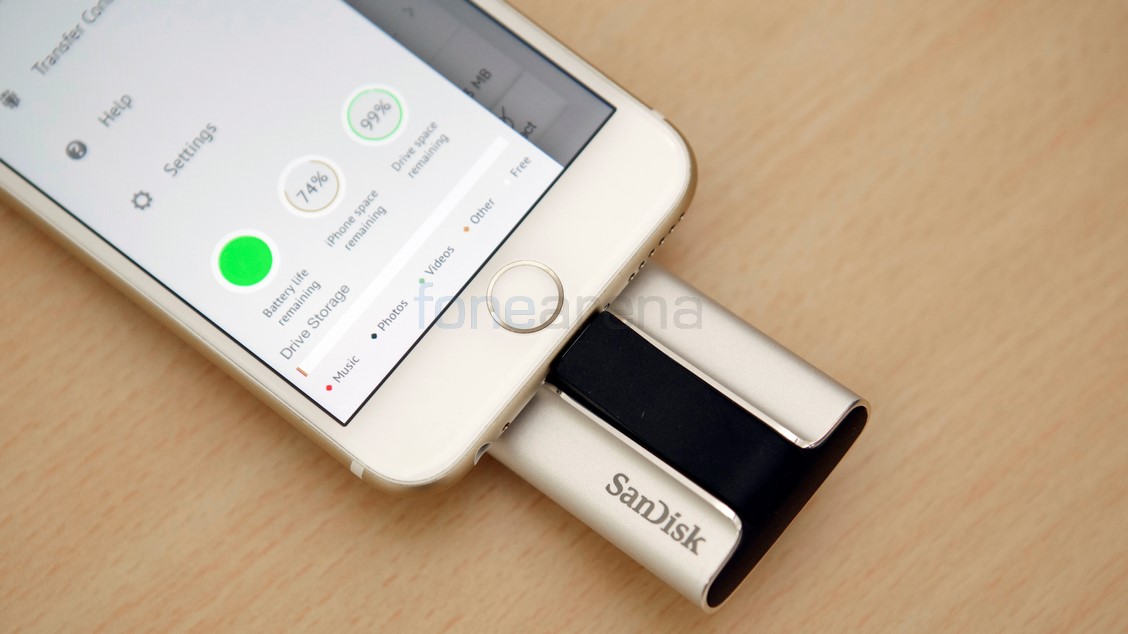 There is an LED light on the right side that informs you of the charge level. When it is green, it means it is fully charged. When the light is yellow, it means it is charging and when it is red, it means that your device needs to be charged soon. If the light blinks in any of the three colors then it is to inform you that a file transfer is in progress and that you should avoid removing the drive. The device is built really well and feels quite premium. We didn't find any creaking or loose parts as such. They even include a USB port protector inside the box.
Connectivity and Performance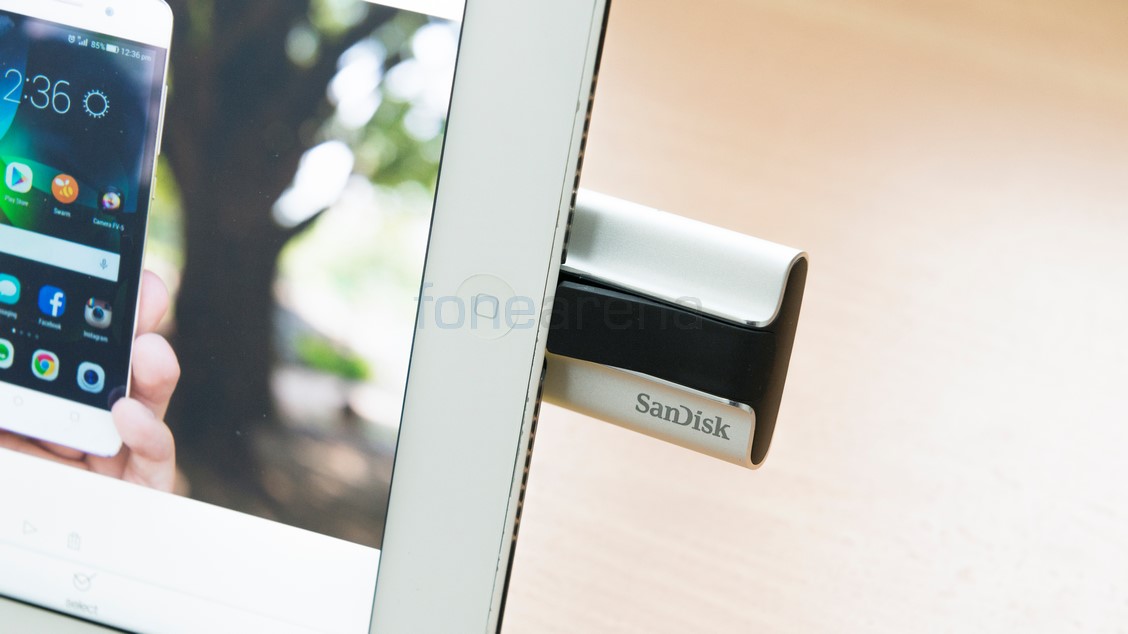 The flash drive has a full sized USB port to connect to your computer or laptop as well as a lightning port. The USB port is a version 2.0 one and not 3.0. We did notice that the copying speeds were a bit slow for our liking but not too slow either. There weren't any issues of any transfers being stopped or cancelled midway. The lightning port doesn't come out fully from the body and initially we thought it was a design issue.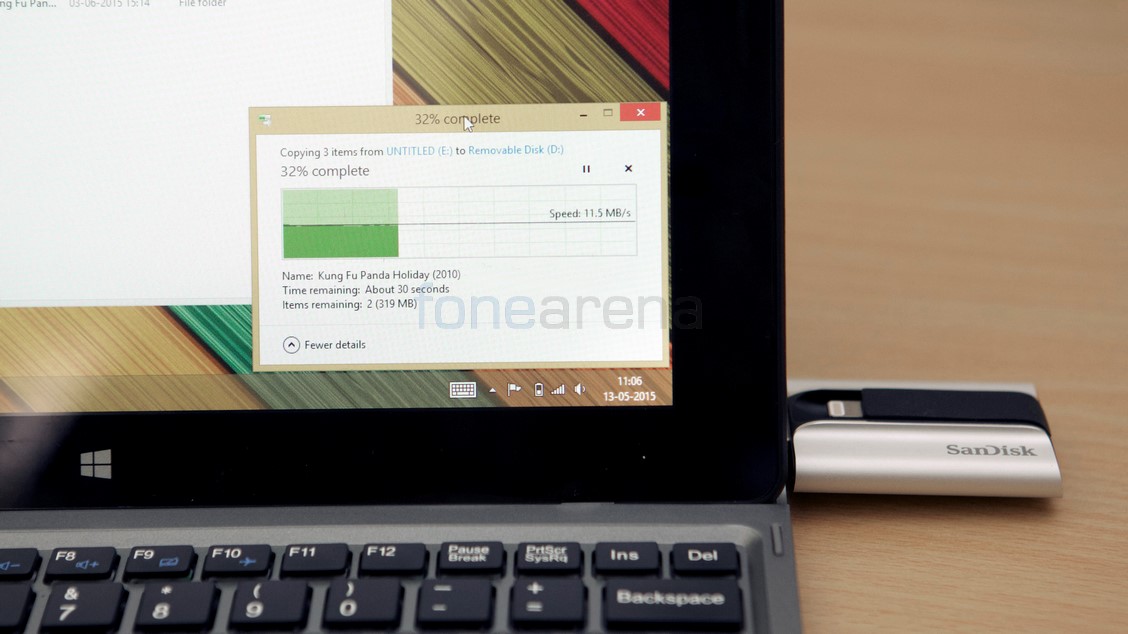 However it actually is a neat way to make sure that the iXpand drive stays safe as it remains attached to the back of your iOS device. Whatever content we played on our iOS devices played smoothly without any lag or crashes. Copying files to and from the drive was quite quick. The only downside is that you need to make sure that your device has enough battery as it will not work if the iXpand does not have charge. You also need to note that in order to use the iXpand drive with your iOS device, it has to be formatted as a FAT32 file-system. Anything else would not be recognized on your iPad or iPhone. This also means that the drive will not be able to store single files that are larger than 4GB in size.
Software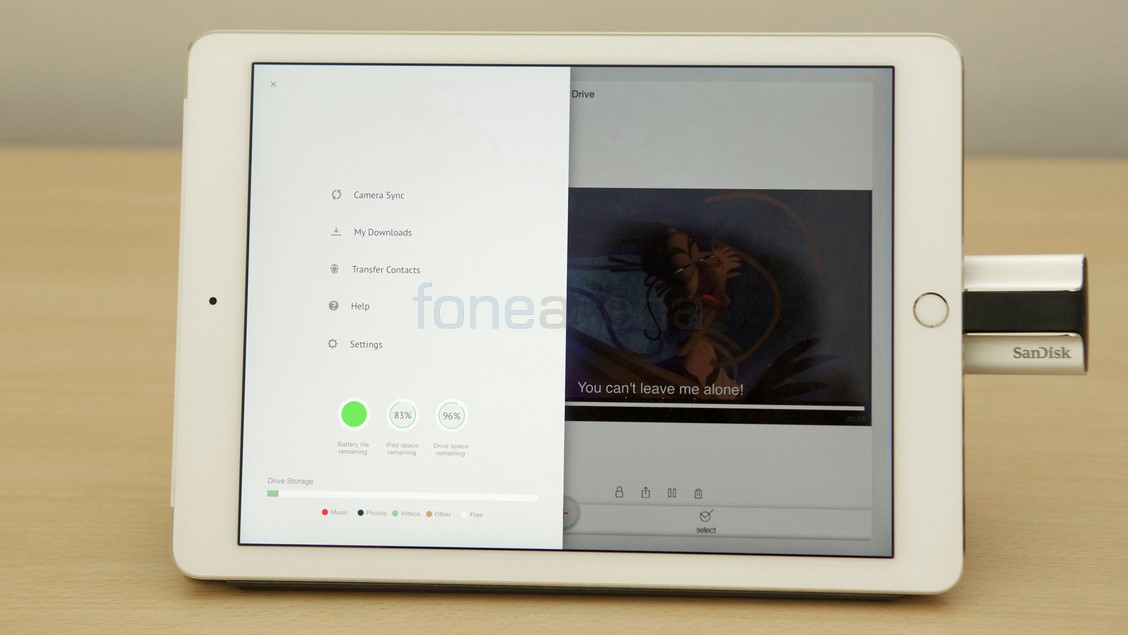 When you plug-in the iXpand drive for the first time, you will be prompted to install SanDisk's software for iOS devices if you haven't already. This is because of the lack of support on iOS devices for 3rd party device file transfers. But the software isn't a bad thing, in fact it makes the whole experience quite easy and smooth.
The app has an easy to learn UI and supports a wide variety of file formats for music, videos, documents and photos. This allows you to play and view files within the application itself. You can easily copy files to and from your iOS device or also set for an auto-sync option whenever an iXpand drive is connected. All iOS devices running version 7.1 or later are supported by the iXpand drive and the app. The drive also shows you the amount of charge and space remaining on both the drive as well as your iOS device.
Conclusion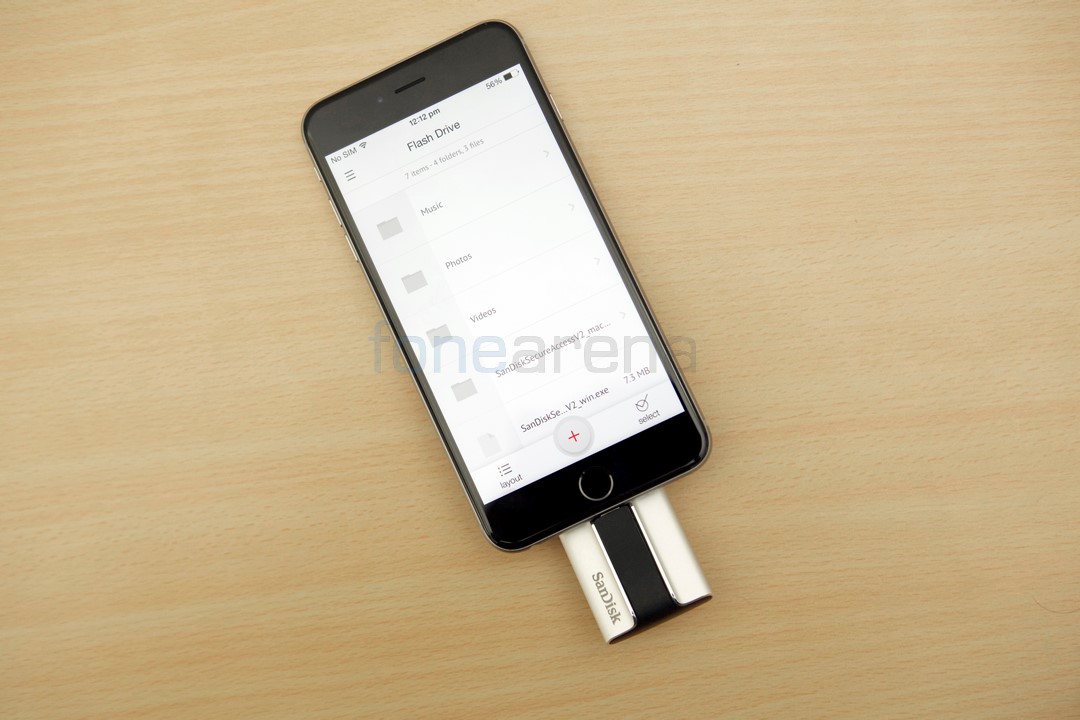 The drive is available in 16, 32, 64 and 128GB capacities at a starting price of Rs 4,490 for the 16GB version. That is a bit costly for an OTG drive. But considering the fact that there isn't any real alternative especially not from a reputable brand, we feel that this is worth its value especially for iOS users who feel that their storage on their devices are limited or if you wish to quickly transfer stuff to and from your computer and iOS devices on the move. So if you need it, do get it. There might be a few drives from Chinese manufacturers that promise similar experiences but they fail to deliver what the SanDisk does. We will be doing a giveaway of the iXpand flash drive in the near future so do stay tuned for that.
Siraj contributed to this review