Worldwide smartphone sales grew 20.3 percent to reach 301 million units in Q3, 2014, according to the latest report from Gartner. The growth was dedicated to strong demand from emerging markets.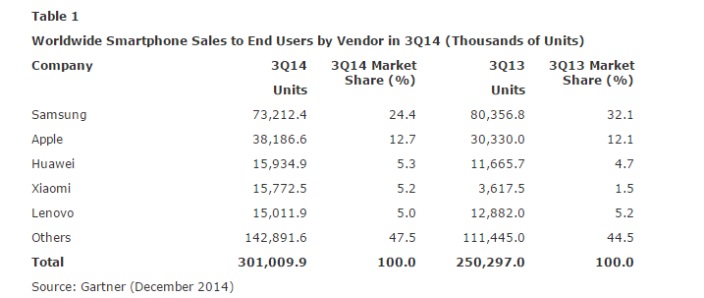 "Sales of feature phones declined 25 percent in the third quarter of 2014 because the difference in price between feature phones and low-cost Android smartphones is reducing further. In the third quarter of 2014, smartphones accounted for 66 percent of the total mobile phone market, and Gartner estimates that by 2018, nine out of 10 phones will be smartphones.

said Roberta Cozza, research director at Gartner.
With increasing smartphone sales and declining feature phone preferences, the research firm estimates that nine out of 10 phones will be smartphones by 2018. Gartner expects sales of smartphones to reach 1.2 billion units in 2014. Android dominated the smartphone market, with 83.1 percent market share as compared to 82 percent in 2013. Apple's iOS also did well, increasing its market share from 12.1 to 12.7 percent with sales up by about 8 million units. Windows and BlackBerry were responsible for 3% and 0.5% market share respectively.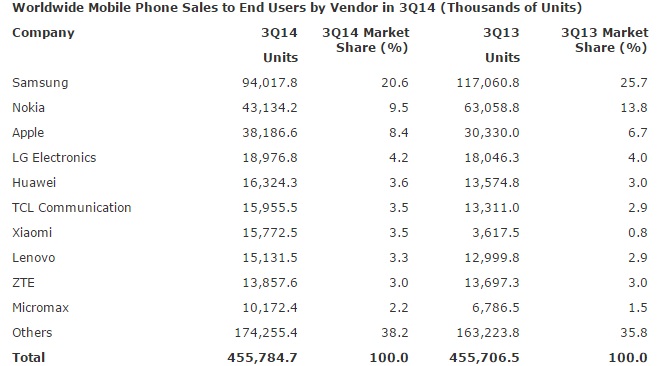 Giving vendor wise analysis, Gartner said that Samsung continued to lead the market but its share fell from 32.1 per cent in July-September 2013 to 24.4 per cent in the third quarter of 2014. Apple came in second as its increased by almost 8 million units to 12.7 percent. Huawei, Xiaomi and Lenovo followed with 5.3%, 5.2% and 5.0% respectively.
Worldwide mobile phone sales to end users totaled 455.8 million units in the third quarter of 2014 and were flat compared to the same period in 2013