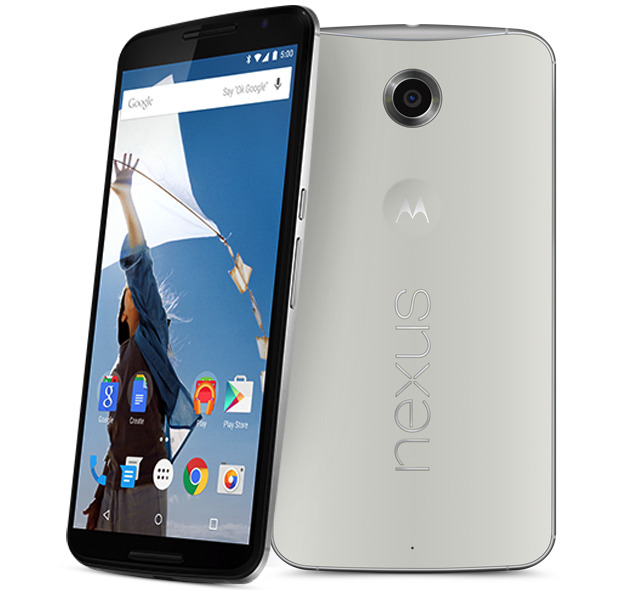 Google's new Nexus 6 smartphone has today gone up for pre-order in the UK on both pay monthly contracts and SIM free and with a range of places to buy from, we're asking who is the cheapest and who delivers fastest? With Google showing the handset as out of stock, can anyone else get it to you in time for launch day on December 1st?
Pay Monthly
If you want the Nexus 6 on pay monthly, you're limited to ordering through Vodafone and Carphone Warehouse at the moment as other networks are yet to confirm pricing and availability.
Vodafone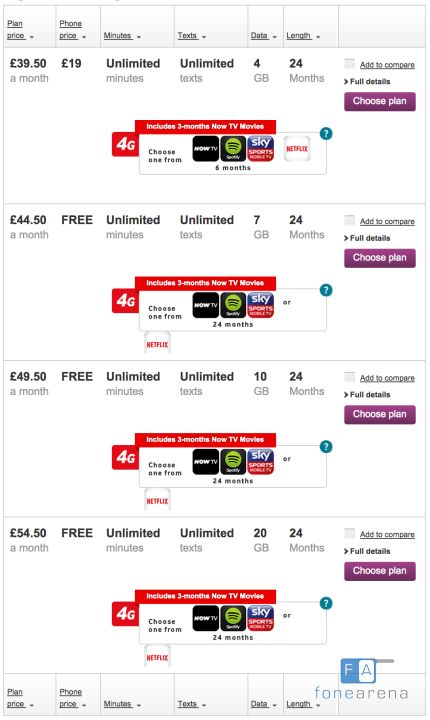 Vodafone are offering the Nexus 6 on Pay Monthly contracts beginning at the £39.50 per month although it's only free on plans from £44.50 per month and higher. There's a range of 4G data allowances available, with the lowest offering 4GB for £39.50 per month and the highest offering 20GB for £54.50 per month.
Each plan comes with unlimited minutes and texts each month along with the choice of an inclusive entertainment pack on all 4G contracts. There's a variety of packs and you can currently opt for either Now TV, Spotify Premium, Sky Sports Mobile TV or Netflix included free of charge. Depending on the plan you choose, the entertainment pack is included free for either 6 months (£39.50/m) or 24 months (£44.50+) but if you opt for Netflix, this is limited to 6 months.
Vodafone are also offering a free Motorola Moto 360 – worth £199 – to the first 500 customers who pre-order the Nexus 6. Head over to the Vodafone website for more information.
Carphone Warehouse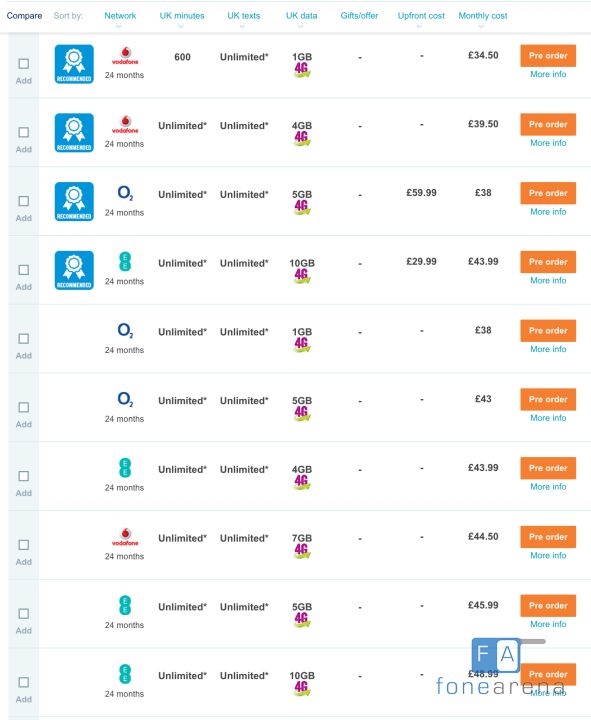 Whilst Vodafone are limited to selling contracts on their network, Carphone Warehouse are able to offer plans on a range and networks and are offering the Nexus 6 on plans from EE, O2 and Vodafone.
The cheapest tariff is on Vodafone and offers 600 minutes, unlimited texts and 1GB 4G data for £34.50 per month with a free handset. The next plan up is the same as Vodafone at £39.50 per month but doesn't have an upfront cost and Carphone Warehouse aren't offering the 20GB Vodafone 4G plan.
The cheapest deal on O2 costs £43 per month for Unlimited minutes, texts and 5GB data each month although the same deal is available for £38 per month if you pay £59.99 upfront. If you want EE, there's also a range of plans available but a recommended deal costs £43.99 per month with an upfront charge of £29.99 and comes with unlimited minutes, texts and 10GB double-speed 4G+ data each month.
For those of you wanting the Google Nexus 64GB on contract, there are a range of plans available but the plans above are all available at the same monthly price but with £30 added to the upfront cost.
Carphone Warehouse is offering both colours of the Nexus 6 and expects to deliver them by 1st December.
SIM Free
Those contract deals work out quite expensive if you're only looking for the handset on its own but luckily, a few places do sell the Nexus 6 SIM free.
Google Play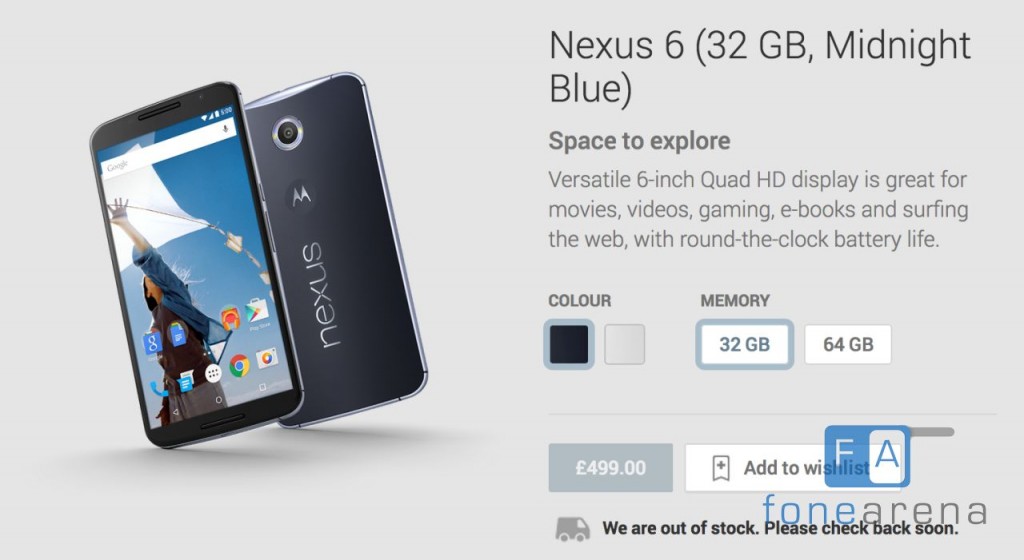 The first place to go is the Play Store where Google has listed both the 32GB and 64GB versions of the Nexus in both Midnight Blue and Cloud White. At the time of writing, the Play Store is showing no availability for any of the variants with the Midnight Blue 32GB Nexus 6 showing as Out Of Stock and the other variants all showing as Coming Soon.
For those who did manage to pre-order the Nexus 6 direct from Google, the company is shipping them from December 1st (just under two weeks away). The 32GB Nexus 6 costs £499.00 Unlocked and SIM free whilst the 64GB costs an extra £50 (£549.00).
Carphone Warehouse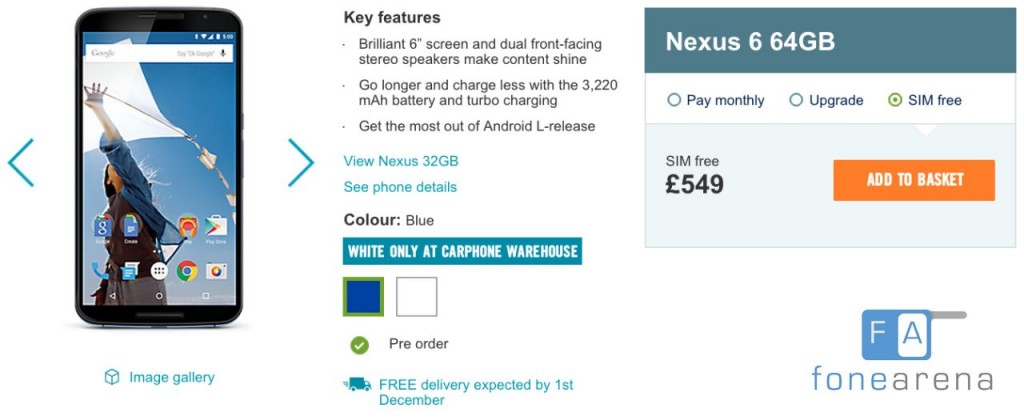 Carphone Warehouse is also offering both the 32GB and 64GB Nexus 6 SIM free and unlocked and is charging the same price as Google for the handsets (£499/£549). Unlike Google however, the Carphone Warehouse website shows both as being available for pre-order with delivery by 1st December.
Carphone Warehouse Nexus 6 SIM-Free – 32GB – 64GB
Amazon
Amazon has also listed the Nexus 6 32GB in Midnight Blue and is charging £499.99 for the handset. However, unlike Carphone Warehouse and Google Play, Amazon won't have the handset until it's "release date" of December 15th and will then ship pre-orders to customers using expedited delivery which means you're unlikely to receive it before December 16/17 at the very earliest.
Normally the go to place for online shopping, we'd recommend leaving Amazon as a last resort in this case!
Other retailers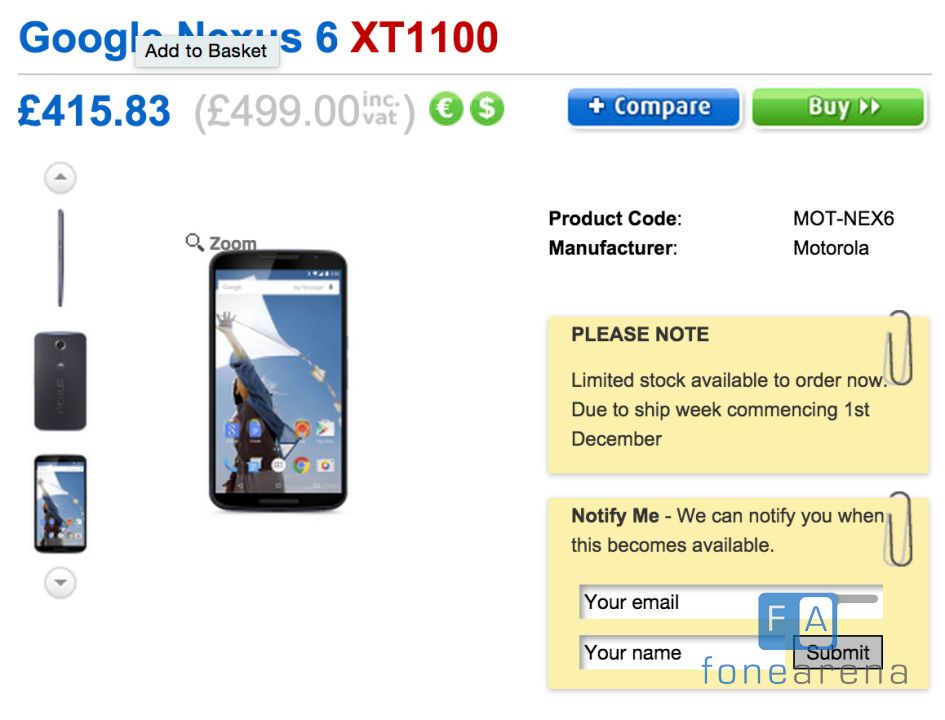 Clove Technology is also offering the Google Nexus 6 but only has the 32GB Midnight Blue version listed on its Google Nexus 6 page. The retailer says that limited stocks are available to order now with pre-orders due to ship week commencing 1st December. 
As we've already covered, MobiCity are also offering the Nexus 6 in both 32GB and 64GB with the handset costing £497.99 and £599.99 respectively – the 32GB is cheaper than Google Play and the 64GB is dearer. MobiCity expect to ship the handset from early December which doesn't confirm whether you'll have it in time for launch.
Another retailer who has also listed the Nexus 6 SIM free is Mobile Fun and they have the 32GB Midnight Blue SIM free handset listed on their website. The retailer, who is known as being one of the largest retailers of mobile accessories, is charging £499.99 for the Nexus 32GB but doesn't confirm when it will have the handset in stock.
Overall there's a range of places to buy your Nexus 6 from in the UK with Carphone Warehouse, Vodafone and Google looking most likely to have it in stock and in your hands by launch day. Whether you want to buy it outright or on a pay monthly contract, we'd recommend committing to your purchase soon if you desperately want it by launch day as stocks are likely to be extremely limited.