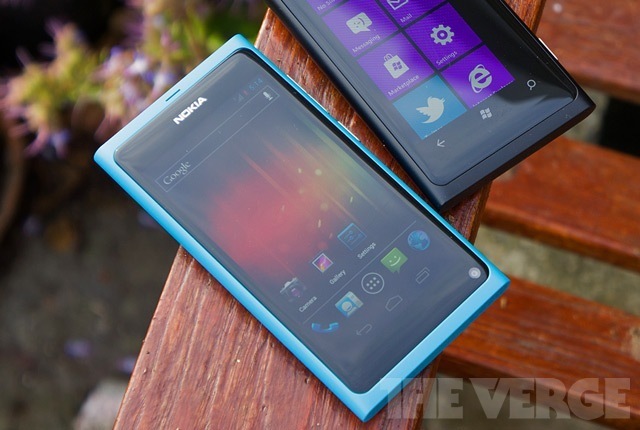 This has been blowing up on the Internet for the past few hours. New York Times reporter Nick Wingfield initially had this scoop that Nokia was testing Android on its Lumia range of devices as a "Plan B" if Windows Phone completely fails to take off. Yes, Nokia was indeed testing Android on its Lumias and it is speculated that it might have been a possibility in light of growing tensions between the two companies, with Microsoft failing to deliver features at a pace Nokia wanted it to. It is believed that this would have played a role in pushing Microsoft to acquire Nokia, but not a huge one, as insiders say that Microsoft was aware of this early on in the partnership.
In a nutshell, Nokia was testing Android on its Lumia phones as plan B. That said, today morning Tom Warren from the Verge brings us new information that Nokia was also looking at options to switch to Android in the low end, with the Asha range. Apparently, there was a team of people tasked with testing Android on its low end devices, running a project codenamed "MView" a short form for Mountain View, a place where Google HQ is located. Sources seemed to have told that this was actually in plans to launch around 2014. Not only that, Nokia also apparently tried forking Android, just like Amazon did with their Kindle Fire devices.
The most surprising aspect of these bits of information is that all the Android plans had been going on ever since Nokia jumped ship to Windows Phone on the 11th of February, 2011. If the Microsoft deal had not gone through, could Nokia have eventually gone Android? On both the high end as well as the low end? But the most important question is, could it have worked out for Nokia?
Spoiler alert: 90% it would not have worked out, and I can tell you why. There are two possibilities to be dealt with here –
What if Nokia had gone Android instead of Windows Phone in 2011
Nokia was in a terrible state in 2010, let alone 2011. Of course people were still buying their device in droves, but that was not due to ground breaking technology or something. The best seller was the Nokia 5230, a S60V5 based device. Let that sink in for a moment.
Not only that, lets take a look at how Nokia was, in the hardware situation. It had 680 MHz ARM11 chips as the new specification when other OEMs had already moved to 1 GHz Cortex A8 processors(N900 was a rebel with a 800 MHz A8). The display resolution was 640×360 when most of the OEMs had already moved to 800×480 six months back. Nokia and Qualcomm had a huge patent battle going on, so Nokia had stuck with TI and Broadcom, one is almost non-existent now and the other gets through in really less number of Android devices.
In February 2011, had Nokia gone Android, the hardware would have still sucked, assuming it was the same good old Nokia that did Symbian. The software situation was even worse. Symbian was failing hard, as it took over an year(after September 2010) just to implement a home screen that moved with the finger. It took the same full year for a portrait keyboard which eventually was bad even after release. These are just tiny bits but a huge deal for user experience, that too in 2011. So, simply said, Nokia sucked at rapidly innovating in hardware as well as software. What would have happened if Nokia had gone Android then? Pretty much a failure, UNLESS Nokia had something vastly different in execution, in partnerships, in work culture and above everything, software. Android at that time required OEMs to add features and make skins to introduce their own differentiations. Could Nokia have afforded to take that software risk again? Nope.
What if Nokia had gone Android in 2014
This is a far more plausible scenario if Nokia had considered forking Android just for its low end devices. It could have done wonders for Nokia as a company, with a lot of devices sold, but it creates another problem. How the low end effect works is, the buyer always aspires to own a device from the same brand at a higher price later on, that's how the business works and that's why Nokia still make a LOT of low end devices. This is a major problem with the Asha 501 too, they just can't convert *all* those users to a massively different OS that is Windows Phone. It just feels alien compared to the Asha 501.
So, the pressure will be back on Nokia to produce Lumias based on Android, which again, would have introduced massive headaches in Nokia scrambling to change their whole branding, the company's overall image, which is a very distrusting thing to do, like they had done with Windows Phone. It turned out bad for them once, it would have turned out bad for them again. And not just that, they now had to make their own software too, because.. take an example – Here Maps was a big asset Nokia couldn't give up, which is a direct competitor to Google, and that indirectly means – forking.
Forking means Nokia doing their own additions, and since they would obviously want to create differentiation, they would want to add more features, making it look a lot like what I had described in the earlier scenario(What they did with Symbian). For all we know, Nokia could have been one of those Android OEMs which never releases updates to its older devices or launches devices based on older version when the Nexus's of this world were three versions ahead. It just wouldn't have worked out. Again, this is under assumption that Nokia was still the same company we knew, when it ran Symbian and made the time consuming Meego.
Overall, both the above possibilities point to the fact that whatever Nokia tried, it could have gone spectacularly bad. And all this while I have totally discounted the overarching dominance of the vertically integrated Samsung, which Nokia says that they already predicted that the dominance would be unbeatable due to the single most important – "vertical integration" factor. Am not saying Windows Phone worked out for Nokia, I am just saying that even Android wouldn't have worked out. But then, I might be totally wrong too, so I leave a generous 10% of my opinions' accuracy to the benefit of doubt.
That said, What do YOU think? Could Android have worked out for Nokia? Why and how? Let us know in the comments section below.
Source NYT and The Verge(incl. Image Courtesy)