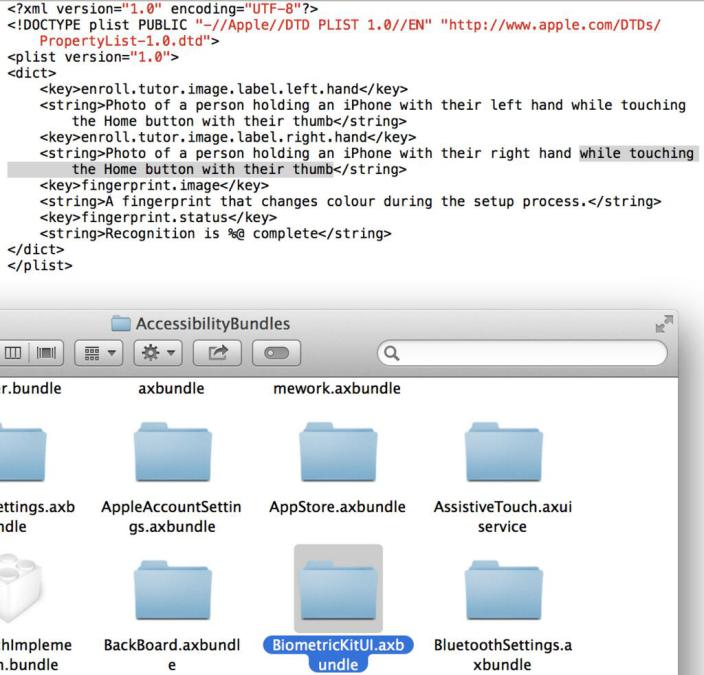 Biometric fingerprint sensors have long been a popular way of implementing secure environments, even in portable devices like a laptop. While it has reached mainstream on most professional grade notebooks, it hasn't really caught up in the mobile space, where security is of much higher importance. Companies have tried and implemented it in really niche devices, but the tech has happily avoided the mainstream. It is about to change, as seemingly true information from the iOS 7 beta 4 build points to a "Biometric Kit UI" directory that confirms that Apple is interested in implement high grade security, right on your new iPhone's home button.
The leak comes from a developer how has had the opportunity to see the leaked folder on the latest iOS 7 beta build with strings like – "..touching the home button with their thumb", "A fingerprint that changes colour during the setup process" and "Recognition is %@ complete". Which more or less confirms that Apple is going to use the home button for fingerprint recognition. This definitely improves upon the easily hackable security solutions the iPhone currently offers, and is even better than the gimmicky face unlock feature on Android which can be easily faked too. The implementation is currently used only for unlocking, according to AI's sources and it is unclear whether it will be used for payment mechanisms or anything more serious.
How will the home button support this tech though? Fingerprint scanners have previously been slightly bulkier for implementation on mobile phones, so it will be interesting to see how Apple implements this idea, that too on a button. At least now we have something to look forward to for the next iPhone, as information or leaks about the next iPhone hasn't really reached out to the internet yet. Here's looking forward to more.
Source Apple Insider