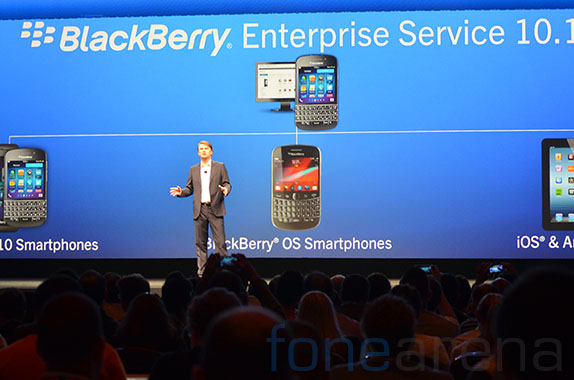 BlackBerry is always known for its Enterprise products that are massively employed in various organizations. The BlackBerry enterprise server has been the backbone of that experience for many years, and it has now been made available in a new form, with support for all BlackBerry devices, old and new, and even iOS and Android devices. As a consumer blog, we will not burden you with too much of details, but if you want more information, read on.
From the BlackBerry blog –
What's included in version 10.1?
Regulated-level EMM. BlackBerry Enterprise Service 10 version 10.1 provides customers with an optional set of extended IT policy settings and controls that restricts the use of a BlackBerry 10 smartphone for work only (does not allow personal apps and content).
Simplified deployment for a lower total cost of ownership. Following a simple installation process, customers will be able to use BlackBerry Enterprise Service 10 version 10.1 to manage BlackBerry 10 smartphones, BlackBerry® PlayBook™ tablets, iOS and Android devices, as well as earlier model BlackBerry smartphones. Upgrading to BlackBerry Enterprise Service 10 version 10.1 is simple and intuitive, and existing BlackBerry Enterprise Server 5 customers can quickly upgrade to BlackBerry Enterprise Service 10 version 10.1 with no firewall changes.
Dashboard and reporting. New dashboard capabilities provide an "at-a-glance" graphical view of information and statistics associated with the customer's complete fleet of devices, providing administrators with immediate access to the information they need. The dashboard displays a high level overview of information such as a device deployment summary by platform and carrier, device compliance state, application deployments, and more.
High Availability. All components of BlackBerry Enterprise Service 10 can now be deployed in a highly available active/passive configuration, similar to the high availability support offered by BlackBerry Enterprise Server 5.0. It offers simple, easy to configure threshold settings and improved failover performance.
BlackBerry Support is now included as standard. Care** now comes as standard with BlackBerry Enterprise Service 10 deployments***, providing 12×5 telephone access to BlackBerry experts, responsive online support, access to training, productivity and diagnostic tools. Extended technical support offerings are available.
BlackBerry 10.1 Enterprise also brings the IM 3.0 for secure instant messaging. You can find more information about that here.
Here's a video detailing the same –
Source BlackBerry