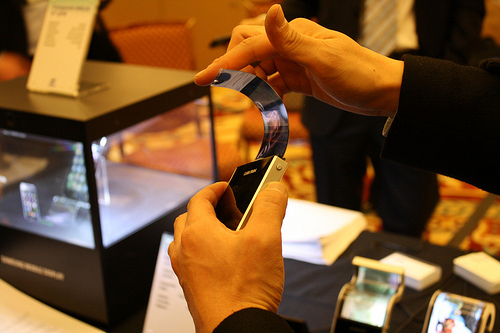 Samsung Display would show off a 5.5-inch (1280 x 720 pixels) HD Smartphone display with a pixel density of 267 PPI at CES 2013, according to a report from CNET. Samsung has patented the concept of foldable display in South Korea back in 2006, but they recently  acquired U.S patent for a foldable displays. Samsung unveiled a 4.5-inch (480 x 800 pixels) flexible AMOLED display with 207 PPI at CES 2011 that had a bending radius of 10 mm.
The upcoming flexible display would also be a prototype, and Samsung would also need to develop a touch panel and a cover when implementing it on a smartphone. Even though the display can bend and curve without breaking, they would not roll up completely.
Recent rumors indicate that the Galaxy S4 expected early 2013 sporting an unbreakable display, but there are no details when we would see this flexible display on a smartphone. CES 2013 starts on 8th January in Las Vegas. We would definitely bring images and entire details of the display from the event next month.
Source: CNET