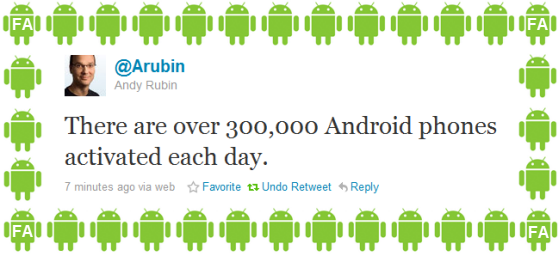 Back in August, Andy Rubin, the head of Google's Android OS said that Android's activation rate is more than 200,000 per day and now he tweeted that more than 300,000 Android devices are being activated each day. In just 4 months, Google has reached another milestone. This is definitely a good news for all the Android fans.
Android is currently the world's second smartphone Operating System. 300,000 Android phones are activated each day, which means that 9 million new Android phones activated each month and about 108 million per year. On the other hand, Nokia is selling more than 120 million devices per year.
Android is still behind iOS and Blackberry in countries like United States. At the current growth rate, Android is expected to get the tag of No.1 Operating System within a year.