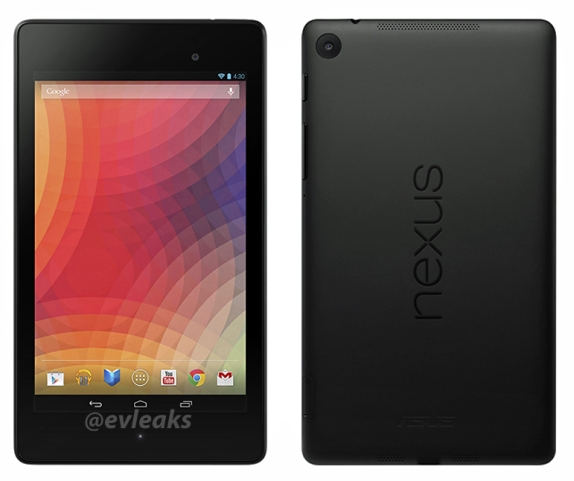 The leaker @evleaks in back again with a press shot of the upcoming redesigned Google Nexus 7 made by Asus. The new Nexus 7 looks a lot thinner from the image but it is very hard to tell from the angle. You can see the front with the display with the onscreen buttons like on the current Nexus 7. On the rear you can see a relatively larger camera along with the Nexus branding. This is not the first time we are hearing about this product and it was leaked a lot in recent times.
You can also spot a notification light below the display.The front facing camera is placed to the right of the screen.
There seems to be dual loud speakers on the back (1 on top , 1 beside the microUSB port at the bottom)
And looks like a SIM card slot on the rear left and may be Google will announce a 3G and hopefully LTE capable Nexus 7 at launch unlike a WiFi only version like it did last year. And lastly there is the Asus logo at the bottom center. We can spot the 3.5mm audio jack on the top as well. The left also has the power/lock switch and volume rocker.
Don't understand why the Nexus branding is running along the length of the device unlike now where it is horizontal. May be it can make phone calls too ?
According to the poster , it is expected to be available in 16Gb and 32GB capacities. It is expected to be powered by a Qualcomm Snapdragon processor which would be a big win for Qualcomm considering the current gen Nexus 7 is powered by a Nvidia Tegra 3. The Nexus 4 ,  Galaxy S4 and HTC One Google Play editions are powered by a Qualcomm chip. The Nexus 10 made by Samsung uses a Exynos 5 Dual processor.
Can't wait for the official announcement on July 24th  by Google when the tablet might official debut alongside the next version of Android. Stay tuned to FoneArena for the updates.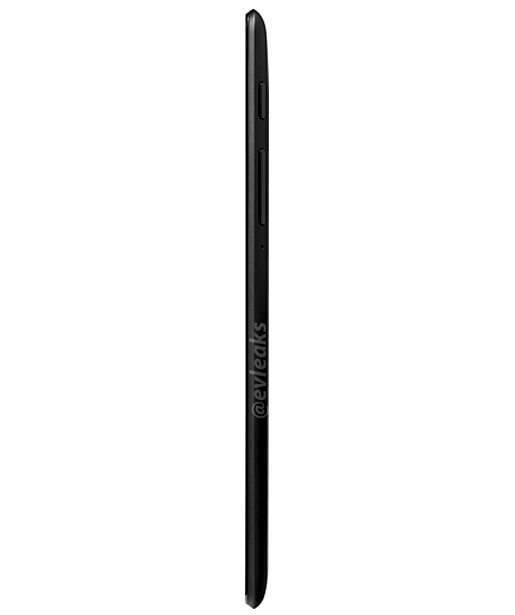 [Update: evleaks has posted another image that shows off the sides of the new Nexus 7]