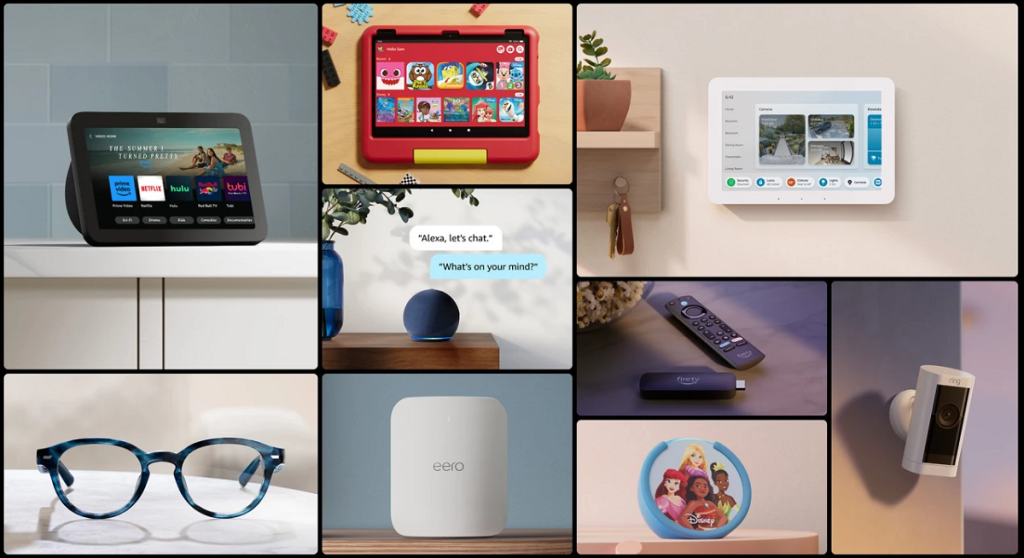 Amazon has announced a series of new additions to its product lineup. These include updated Fire TV Sticks, a brand-new Fire TV Soundbar, and a range of innovative Echo devices.
Notably, all-new Fire TV Sticks and Echo devices have received the Climate Pledge Friendly badge for their commitment to reducing CO2 emissions.
Fire TV Stick 4K Max (2023)
The all-new Fire TV Stick 4K Max is the first streaming media player with the Fire TV Ambient Experience. It boasts a more powerful 2.0 GHz quad-core processor and is the industry's first streaming stick with Wi-Fi 6E support.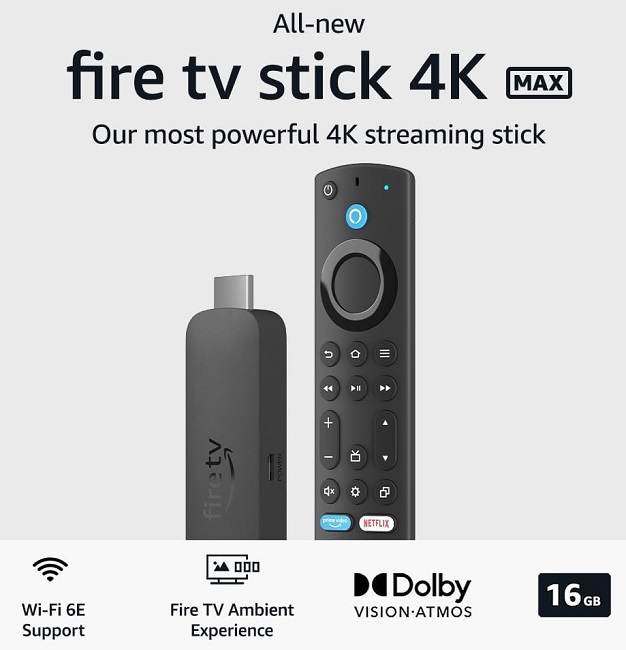 The device delivers 4K Ultra HD visuals and immersive Dolby Atmos audio with support for Dolby Vision, HDR, and HDR10+. Additionally, it doubles the storage capacity to 16GB, compared to 8GB in its predecessor.
Fire TV Stick 4K (2023)
The new Fire TV Stick 4K comes with Wi-Fi 6 support and an enhanced 1.7 GHz quad-core processor, making it almost 30% more powerful than the previous version.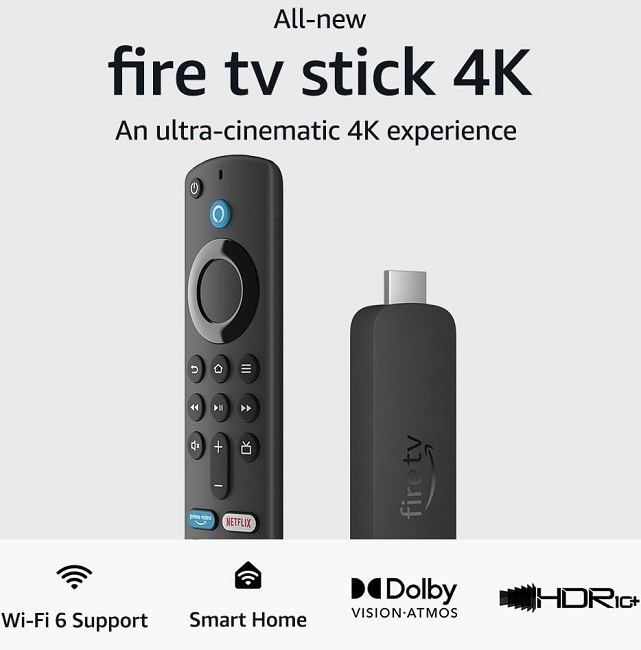 It provides 4K Ultra HD picture quality, Dolby Atmos audio, and compatibility with Dolby Vision, HDR, HLG, and HDR10+. With Alexa Home Theater, users can connect compatible Echo devices wirelessly for enhanced audio across multiple speakers and inputs.
Fire TV Soundbar
The Fire TV Soundbar is a two-channel companion device offering room-filling sound with support for DTS Virtual:X and Dolby Audio.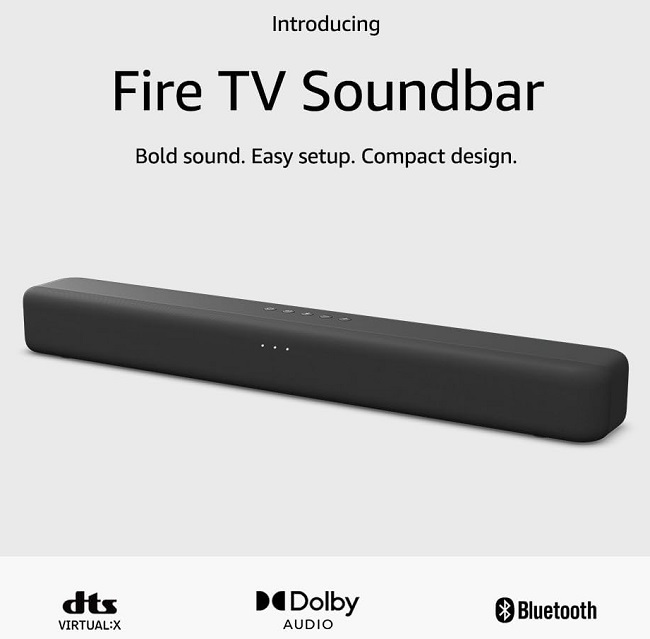 Its compact 24-inch design is easy to set up and compatible with all Fire TV devices. Users can also connect their phones, tablets, or any streaming device via Bluetooth when not watching TV.
Fire TV Ambient Experience
The Fire TV Stick 4K Max introduces the Ambient Experience, turning your TV into a smart display that replaces the usual blank screen with useful information and stunning artwork.
It's activated easily through the Alexa button or voice commands and doubles as an in-home art gallery with a vast collection of images from global artists, all without the need for a subscription.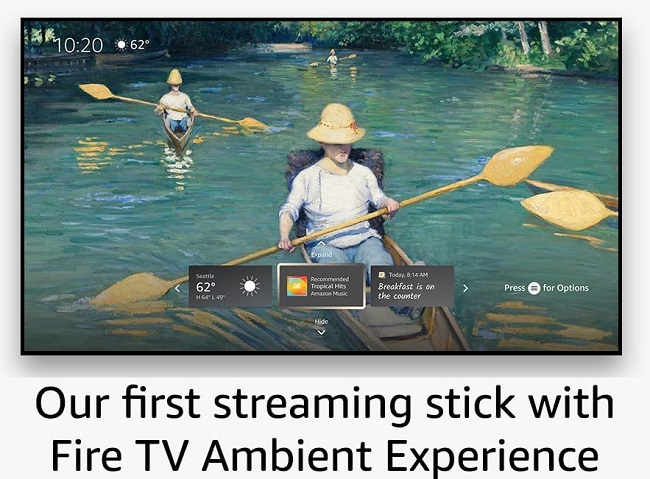 Later this year, AI Art will empower users to create their artwork through imaginative prompts, like "Alexa, create an image of cherry blossoms in the snow." Moreover, next year, users can showcase their personal photos from Amazon Photos in various artistic styles on their TV.
Fire TV Experience Updates
The upgraded Fire TV experience enhances search, browsing, and recommendations through generative AI. This allows users to find content naturally and conversationally. Alexa can answer nuanced questions about TV shows and movies, find content based on specific criteria like actors or genres, and offer personalized recommendations based on user profiles.
Additionally, a new "Continue Watching" row highlights content from popular streaming providers, making it easier for users to access their recently watched shows and movies. These updates will roll out to U.S. customers later this year.
Echo Show 8 (2023)
Amazon's Echo Show 8 gets a makeover with a sleek edge-to-edge glass design and faster processing power. It can now process smart home requests 40% faster, making turning on lights or switches a breeze.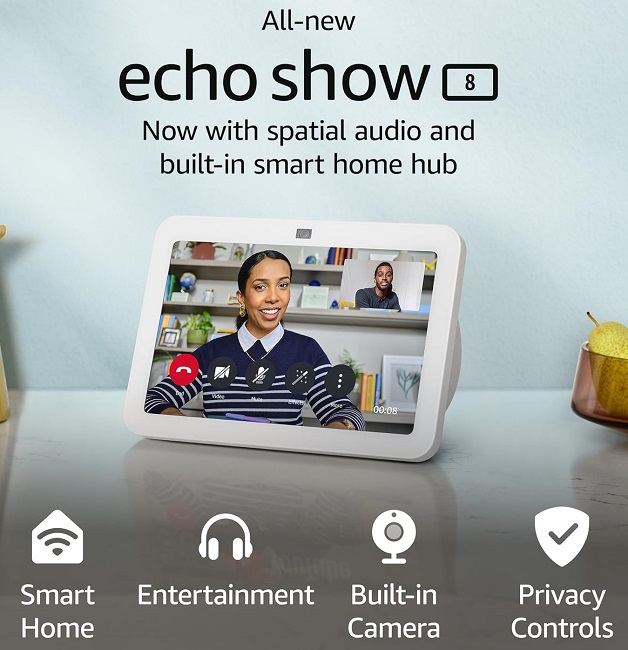 Sound quality has also been upgraded for better clarity and bass. The 13-megapixel camera improves video calls, and it now includes a smart home hub supporting various protocols like Zigbee, Sidewalk, Thread, Bluetooth, and Matter.
Adaptive Content on Echo Show 8
The Echo Show 8 introduces a feature called Adaptive Content. It adjusts what's displayed on the screen based on your proximity to the device. If you're far away, you'll see easily viewable content, like news headlines.
As you approach, it transitions to more detailed views. Personalized content is also available for those using visual ID. This feature will roll out to other Echo Show devices next year.
Echo Show 8 Photos Edition (2023)
This fall, Amazon will offer the Echo Show 8 Photos Edition, which focuses on personal photos. It displays your selected pictures as the primary screen content, rotating every 30 seconds. You also get 25 GB of Amazon Photos storage, perfect for Prime Members looking to back up their videos.
Echo Hub (2023)
Amazon introduces the Echo Hub, an Alexa-powered smart home control panel with an eight-inch touch display. It simplifies smart device management, grouping, security system control, and more.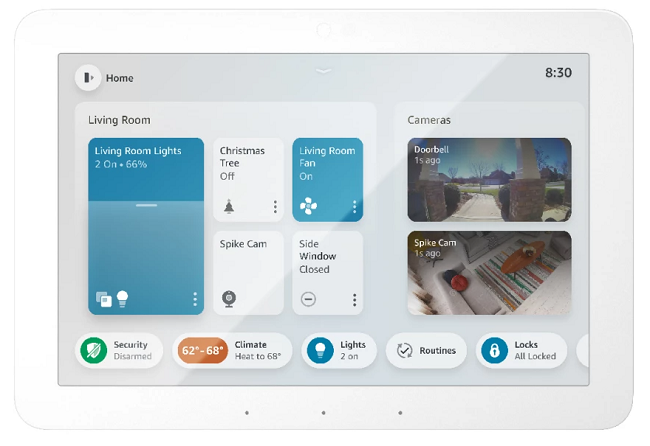 The Hub uses Adaptive Content to switch between a clock and smart home control screen. It can be wall-mounted or placed on a counter, serving as a hub for various smart devices.
Next-Gen Echo Frames
The new Echo Frames blend fashion with Alexa on-the-go. They come in five styles, including sunglasses, prescription-ready, and blue light lens options.
These frames are lightweight, have improved battery life, enhanced audio quality, and better speech recognition, even in noisy conditions.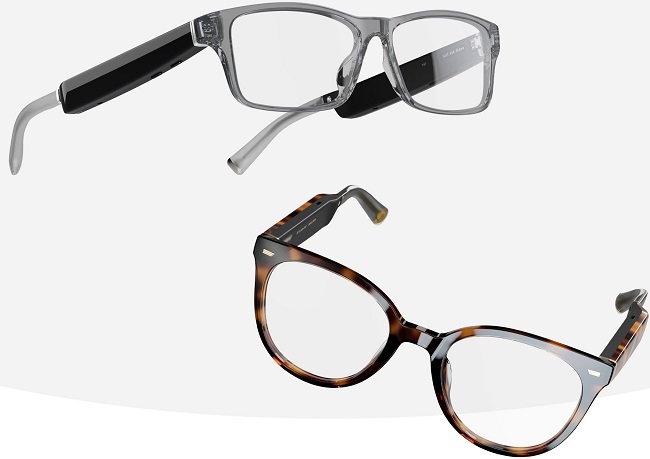 Carrera Smart Glasses
Amazon has introduced Carrera Smart Glasses, a stylish line of smart eyewear with Alexa integration. These glasses merge iconic Carrera fashion with Alexa's capabilities, helping you stay connected and manage tasks seamlessly.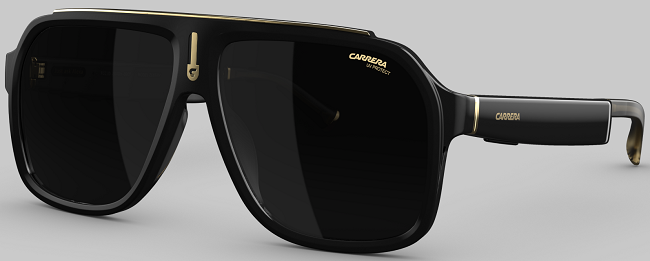 Privacy at the Core
Amazon prioritizes customer privacy with built-in camera shutters, microphone controls, and the ability to mute microphones on Echo Frames and Carrera Smart Glasses. Customers have full control over their voice recordings, with the option to view, hear, or delete them at any time.
Pricing and availability
Fire TV Stick 4K Max: Available for pre-order at USD 59.99 (Rs. 4,985 approx.) on Amazon.com.
Fire TV Stick 4K: Available for pre-order at USD 49.99 (Rs. 4,155 approx.) on Amazon.com.
Fire TV Soundbar: Available for purchase at USD 119.99 (Rs. 9,970 approx.).
Echo Show 8: Available in Glacier White and Charcoal for USD 149.99 (Rs. 12,460 approx.), with shipping starting on October 25.
Echo Show 8 Photos Edition: Coming later this fall at USD 159.99 (Rs. 13,290 approx.), including a six-month PhotosPlus subscription (renewable at USD 1.99 (Rs. 165 approx.) per month, cancel anytime).
Echo Hub: Priced at USD 179.99 (Rs. 14,955 approx.) and set to be available later this year.
Echo Frames: Starting at USD 269.99 (Rs. 22,435 approx.) and Carrera Smart Glasses at $389.99 (Rs. 24,095 approx.), both available later this year.
Amazon also announced that customers will soon be able to preview new Alexa capabilities powered by generative AI on all Echo devices, including the ones introduced today.