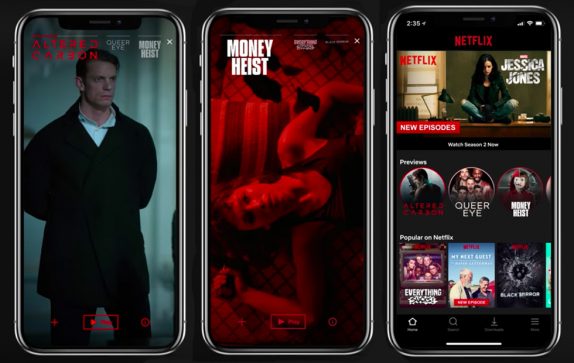 Netflix has announced that it would bring the mobile previews for TV shows and movies with Vertical Video in April. This video preview will show a 30-seconds video sample of the content and are displayed as a vertical video. Netflix introduced the Mobile preview to TV back in 2016.
Netflix says that mobile previews will be an intuitive way to discover, browse less, and watch more content on the app. These previews will be integrated into the main home screen of the mobile app with round icons much like Instagram stories. Users can watch through the 30-second preview or swipe through them to explore more. During the time of launch, Netflix will have up to 75 of such previews to swipe through at a time.
Netflix mobile previews will be rolled out to iOS first and will gradually roll out to Android as well. These previews are mobile-optimized by design and are personalized. The company says that it did rounds of testing to understand better what type of video is most compelling and useful for the
smartphone experience. With more than 50% of Netflix members using mobile devices to access the service on a monthly basis, it is a useful inclusion.
Commenting on the same, Netflix said:
We are glad to share that Netflix has launched Mobile Previews. The stories like a design on the mobile experience will essentially show personalized trailers if the user taps them and is an evolution of the TV previews that we had done previously. As Netflix launches even more content, mobile previews are yet another intuitive and fun way for members to connect with new titles more easily and  help  them to browse less, and watch more stories they will love.