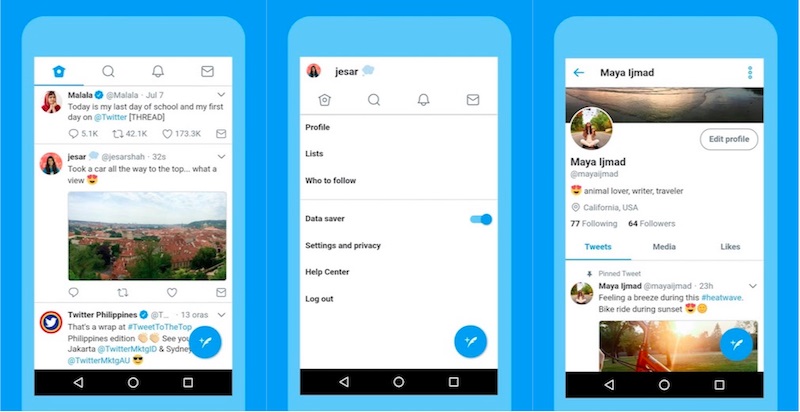 Earlier in April, Twitter launched Twitter Lite mobile website for emerging markets including India. Now, the company has started testing Twitter Lite Android app that uses less data.
The Twitter Lite app is currently being tested in Philippines. It is designed to work in countries with poor or limited internet connectivity. The app is an experiment and it is not certain if it will test the app in other markets. It is compatible with devices running Android 5.0 and up, has language support both for English and Filipino and is usable on 2G and 3G networks. The Twitter Lite app weighs just 3MB and can use up to 70% less data. It comes with a data saver feature that when enabled, allows the app to load videos and images only.
A Twitter spokesperson told TechCrunch,
The Philippines market has slow mobile networks and expensive data plans while mobile devices with limited storage are still very popular there. Twitter Lite helps to overcome these barriers to usage for Twitter in the Philippines.
Even though, the app is a lighter version of the main Twitter app, it has basic functions such as breaking news, sports scores and entertainment updates and options to view Timeline, Notifications, the Explore tab, Messages and to customise profile. It even lets you take polls.
Leading social networks are launching lighter versions of their app in order to garner users from emerging markets. Earlier in July, LinkedIn launched LinkedIn Lite mobile app in over 60 countries including India. Facebook released Facebook Lite in 2015, Messenger Lite last year and YouTube also unveiled a YouTube Go beta mobile app in India.
People living in Philippines can download the Twitter Lite app here. Twitter Lite is now available on APKMirror, so you can try it outside of the Philippines. You can check it out here.