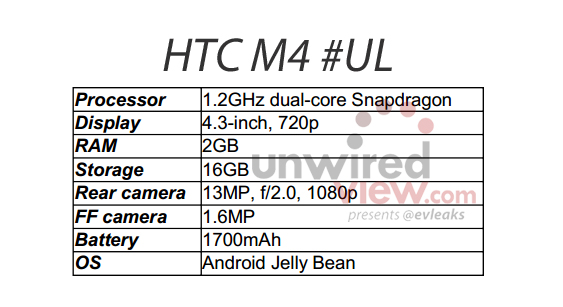 The HTC M7 is almost confirmed, with them planning the press event at London and NYC on the 19th of February, right before the Mobile World Congress at Barcelona, which is starting on the 25th. But according to some new leaks from the leakmeister, @EVleaks at UnwiredView, HTC is filling up its portfolio with two other devices, the HTC M4 and the HTC G2. By looking at the specs, the HTC M4 looks like a mid to high end device, with possibilities of it being a successor to the HTC One S. It is also interesting to note that the hardware specs somewhat resemble the HTC Windows Phone 8X, while the HTC G2(which bears no similarities to the first Android phone) is supposedly a low end device and a probable successor to the HTC Desire C.
As you can see in the image above, the HTC M4 has pretty much the same specification as the HTC Windows Phone 8X when it comes to the display and internal storage. We also doubt that it may be the similar Snapdragon S4 Plus dual core Krait processor on the M4, just like the HTC One S. The rear facing camera supposedly remains the same as it's big brother, the HTC M7 but the front facing camera takes it down a notch at 1.6 MP. The battery is rated at 1700mAH and runs on Android JellyBean, probably the latest version. EVleaks also adds that it will come with the Sense 5 UI and with LTE wherever possible.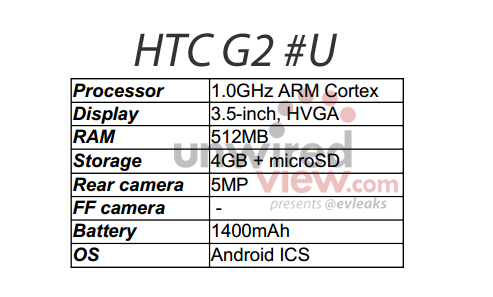 You can see that the specs of the upcoming HTC G2 from the image above mirrors much of the HTC Desire C and its range of devices. The HVGA display is a bit disappointing but if the device goes to a very low price range, it might be justifiable. The processor is a 1 GHz ARM Cortex, but we are not aware of the full details yet, it could be anything. The 512 MB RAM and 4 GB of internal storage are the usual suspects found in low end devices. The 5MP camera and much of the other specs are very similar to the Desire C, but the 1400 mAH battery is better, and is a welcome change. Unfortunately, the device is slated to run Android ICS at launch, which is a good two generations behind the latest Android version. But, we can't expect much at this class of a device, eh?
We will be sure to bring you more news of these devices when they launch, till then, hang tight, February is going to be awesome.
Source UnwiredView