Home » Android, LG
LG "B" Leaked Pics Emerge, Will Show At CES 2011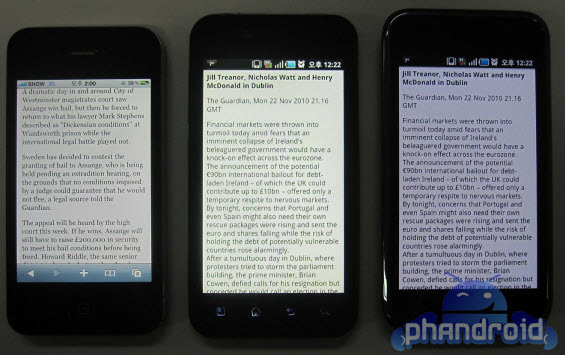 A tipster has recently sent a few pics of the unreleased LG smartphone to the guys at Phandroid. This handset is codenamed as LG "B" and it comes with 4 inch IPS display, which was earlier seen in the iPhone 4 and iPad. This phone was compared with iPhone 4 and Samsung Galaxy S and it was found that, LG "B" is even slimmer than the "slimmest" iPhone 4 and much brighter than the AMOLED display. LG "B' is less than 8 mm thick while the iPhone 4 is 9.3 mm thick.
The LG's official account for CES 2011 accidentally sent out a tweet regarding the leaked LG "B" smartphone and confirmed the existence of this slimmest smartphone. LG tweeted,
seein is believin! The super slim & super bright "LG B" Android phone. come to #CES #CES11 and see with your own eyes!!
LG "B" will be powered by the Android operating system. This handset is expected to be announced at the CES 2011. Check out some additional pics of the LG "B" smartphone below.