The long awaited Windows Phone GDR3 update has now been officially unveiled and confirms most of the rumors around the update. The biggest and most promising feature is that  Windows Phone now supports 1080p displays and the Snapdragon 800 SoC. This means that Windows Phone flagships will no longer be crippled by hardware limits when compared to Android phones. It can be said that WP phones are usually fast enough to not require top of the line hardware but chipsets like the Snapdragon 800 also bring a lot more to the table. Support for 1080p displays means that you can now have up to 6 small tiles or an additional medium sized tile. Alongside 1080p screens, Windows Phone can now also be used on 5-6 inch display devices allowing Windows Phone phablets, something we'll be seeing very soon in the form of the Lumia 1520.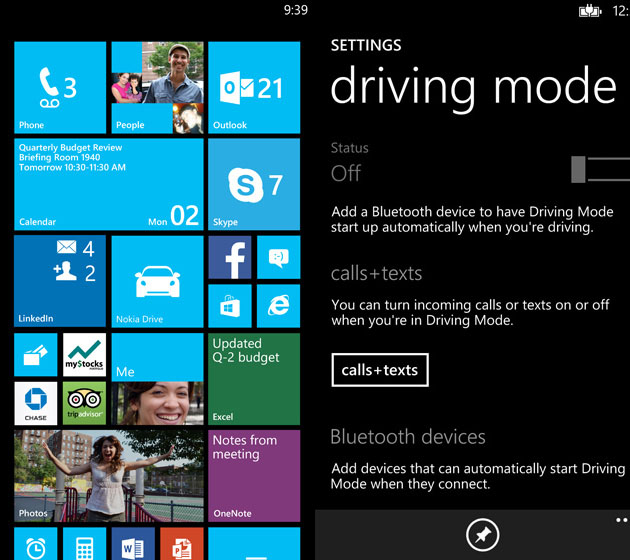 There are lot of tweaks done to the OS to improve usability. There's a brand new driving mode that limits notifications on the lock screen when connected to a Bluetooth device. Driving mode can be configured to send automated replies on receiving calls or text messages while driving. Mobility access has also been improved to allow for screen readers as well as tools for the hearing impaired. The much awaited screen rotation lock is also present on the phone and so is the ability to close apps from the multitasking menu. It is now possible to use custom ringtones for text messages. There's a lot more under the hood including better other storage management and the ability to finally enable WiFi while setting up your phone instead of having to rely solely on cellular data. All in all, it looks like a fairly solid update though the missing notification center gives us cause for concern.
So, summarizing on all the features, Windows Phone GDR3 brings you –
Support for 1080p screened devices, like the Lumia 1520, with default apps scaled to take advantage of potentially huge screen real estates.
Support for Snapdragon 800 Chipset
Driving mode – Managed notifications and automatic replies for a safer travel
New accessibility apps – Screen reader reads out text on any screen aloud
Improved Internet Tethering – Can use Bluetooth to tether to a PC now
Custom Ringtones for separate contacts and each and every type of notification
Screen rotation lock
Better storage management
Can now close apps on the multitasking screen
WiFi during Phone Setup(Finally!) and BT improvements for better accessory support(Fitbit, Upcoming Nokia Tag and more)
Windows Phone just turned three a week back. While it may have grown really slow, it is good to see some much needed improvements with GDR3, but we certainly hope for a feature-complete set with Windows Phone 8.1 Blue. Another interesting bit of news that was announced along with the GDR3 update is that the Enthusiast program for previewing Microsoft's OS is finally here. Called the "Developer Preview", pretty much anyone with a developer account or even a free Microsoft AppStudio account can get access to the preview bits of this update, alas without the device specific firmware. Announced with Windows Phone 8's original release, the program never showed up until now, leaving many frustrated. Well, it is finally here, and you can check out the complete details of the Preview program here.