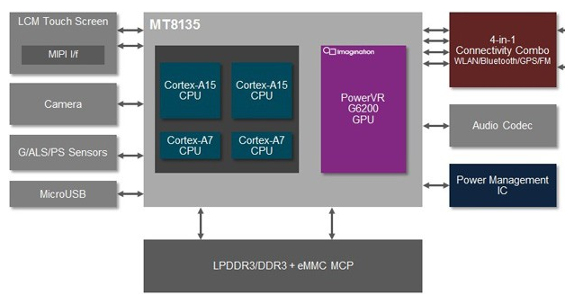 MediaTek has announced MT8135 quad-core chip based on ARM's big.LITTLE architecture and PowerVR Series 6 GPU. Samsung announced the Exynos 5410 Octa-core chip at CES 2013 earlier this year that uses 4 ARM Cortex A15 chips and four Cortex A7 chips. Samsung even released an upgraded octa-core chip Exynos 5420 with ARM Mail T628 GPU last week. The MediaTek MT8135 uses two high-performance Cortex A15 clocked at 1.7 GHz and two ultra-efficient Cortex A7 processor clocked at 1.2 GHz. It also has the latest PowerVR Series 6 G6200 GPU. This SoC is aimed at high-end tablets.
This is based on ARM's big.LITTLE processing that offers enhanced performance while maintaining the power efficiency. MediaTek says that they have deployed an advanced scheduler algorithm that combines adaptive thermal and interactive power management to maximize the performance and energy efficiency benefits of the ARM big.LITTLE architecture that enables application software to access all of the processors in the big.LITTLE cluster simultaneously for a true heterogeneous experience. MediaTek has also unveiled a True Octa Core chip solution recently that would uses all the eight cores at a time.
The MT8135 includes built-in Wi-Fi, Bluetooth 4.0, GPS and FM and Wi-Fi certified Miracast for seamless multimedia sharing between devices. It support LPDDR3 RAM. The Heterogeneous Multi-Processing model removes all limitations by allowing each CPU to be switched on or off as needed. Here is a chart of the multi-processing model.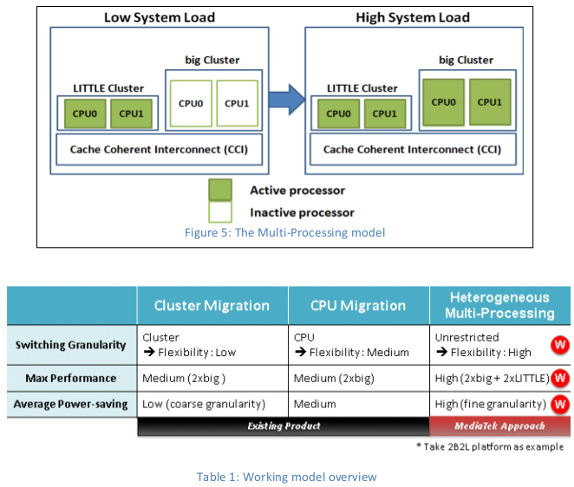 Here is a official video that shows that MediaTek MT8135 outperforms today's tablet chips.
MediaTek did not reveal when we can see tablets with this chip.