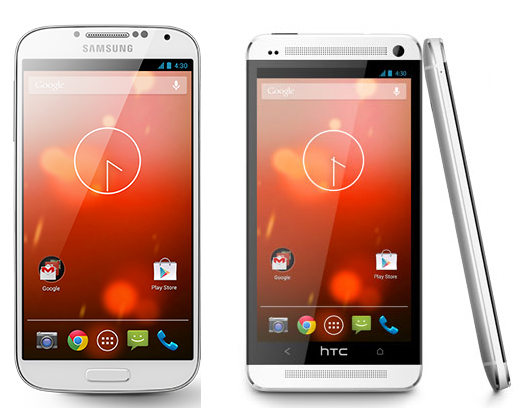 Google has started selling the Samsung Galaxy S4 and the HTC One running stock Android. in the U.S through the Google Play. The Samsung Galaxy S4 Google Edition was announced the Google I/O last month and the HTC One running stock Android was announced at the end of last month. Both these phones run on stock Android 4.2 (Jelly Bean). Google is calling these the Google Play edition and the phones would automatically receive updates of the latest Android software. Both the phones are Unlocked and contract free.
Even though the software differs, the hardware remains the same. You might lose some of the unique features for both these phones including the Smart Pause , Smart Scroll, S Translator, S Travel , S Voice Drive, S Health, Camera features (Dual Shot / Dual Recording/ Dual Video Call) and more on the Galaxy S4 and the  HTC BlinkFeed, HTC Zoe camera etc. in the HTC One.
Both the Samsung Galaxy S4 and the HTC One with stock Android are on sale in the U.S from the Google Play Store priced at $649 and $599 respectively. These phones are expected to ship by July 9th 2013.
Source: Google Play 1,2