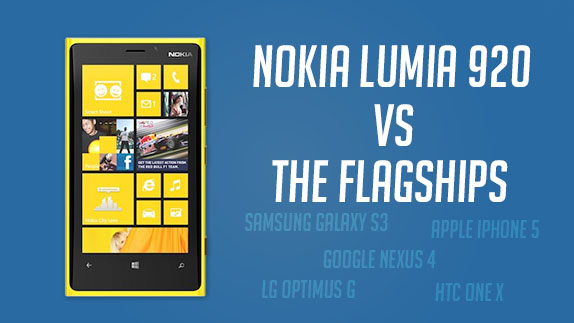 Just days after the Nokia Lumia 920 won the Ultimate Smartphone flagship title, we decided that it is time we directly pitch it against other flagships with in depth video coverage. Not only that, the Nokia Lumia 920 just launched here in India, so it is more of a need that we compare it with other devices, mostly current flagships and see if it's worth it, right? Lets get started then.
Note – This post is going to be at the center of all the comparison posts that are related to the Nokia Lumia 920.  
The Nokia Lumia 920 is currently Nokia's flagship Windows Phone 8 device and much has been already said about it. You can read our review here, and you can follow all the previous posts of the Battle of the Flagships that concluded recently, to see how the Nokia Lumia 920 fared in votes and made it to the top.
The comparison posts are listed here –
More coming up – Lumia 920 vs LG Optimus G, Lumia 920 vs Nexus 4.. etc.
Keep an eye on this post and bookmark it for future reference as we will be constantly updating this one, whenever a comparison goes up! Stay tuned!